Growers can find information about best practice in the seasonal orchard activity section below. The correct timing of key orchard management practices is important to achieve a high yields of good quality fruit. The following information highlights some key orchard management activities with recommended timings within each season. Information and links are reviewed regularly and updated with information from research trial results, published literature as well as grower and consultant input.
Orchard management checklist
Basic requirements for avocado production
- No more than a couple of mild frosts per year
- Free draining soil
- Flat or northern aspect with good sunlight
- Adequate shelter from wind
Spring
Growth stages
September
Flower buds start to swell and develop.
October – November
Flowers start to open, are pollinated and fruitlets start to become visible.
New red vegetative shoot growth is produced.
Roots are often flushing activiely.
Carbohydrate stores begin to be depleted to support flower and new leaf development.
For a video of the phenology of a regular bearing tree, visit the link here.
For a video of the phenology of a irregular bearing tree, visit the link here.
August - early September | Inject sick trees with phosphonate to protect trees from Phytophthora
Trees with moderate to severe Phytophothora root rot will benefit from a spring application of phosphonate in addition to the autumn application.
Root test before and 6-8 weeks after injection
If higher than 90mg/kg roots at 75% moisture don't inject
Expect levels of 25 – 45mg/kg at 75% moisture after injection. Higher is ok.
Use 15% working solution of phosphonate
20ml per meter of canopy diameter
Space syringes evenly
Don't inject sick trees with more than recommended dose.
Further resources on projection of Phytopthrora
5-10% flowering | Bring in bees
Monitor flowering.
Flowers about to open are more rounded compared to those that have already opened.
Bring in bees when 5-10% flowers have opened.
8-10 hives per hectare is best practice. If you have alot of flower and expect good spring weather 4-6 hives/ha probably ok. More bees the better.
Bees won't fly in less than 17°C, windy days or very cloudy days.
Pollenisers will help with female/male overlap which is important in marginal climates.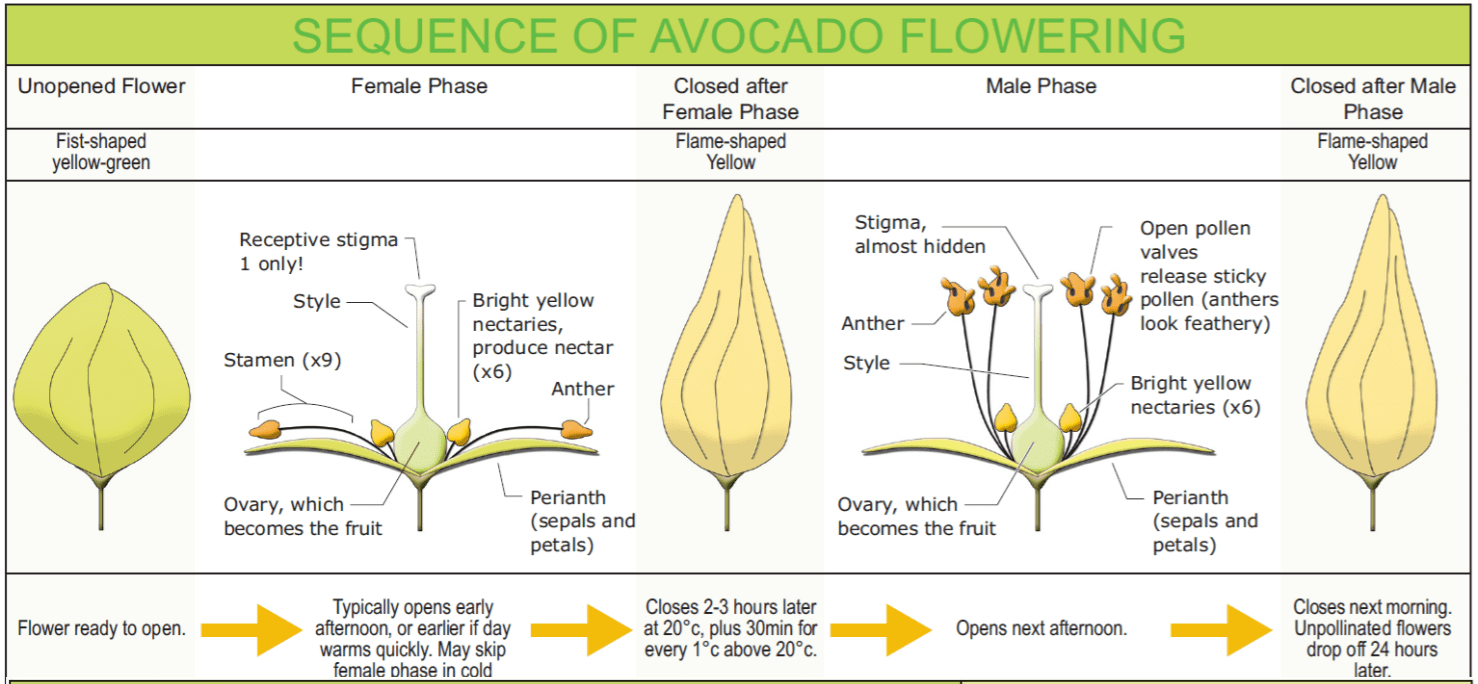 Unopened flowers are quite plumb or rounded
Flowers that have opened and closed are more pointed
Female phase flowers have stamen and anthers more flat against sepals and petal whereas male flowers have more upright stamen and the anthers may have a feathery look as they present the pollen.
September - October | Flower prune excessively flowering trees
Excess crop load reduces return crop with early intervention key to mitigation
For a video about crop load management to reduce irregular bearing, visit the link here.
Too much flower is not a good thing but is common if the trees haven't held much crop.
Allowing the tree to set excessive fruit will deplete valuable resources that could be used to support fruit sizing, spring leaf flush and next years flowering.
The earlier you can prune excess flower off the better but it can be easier to leave until October when new leaf flush is more visible. This will make it easier to target determinate infloresences that lack new leaf.
A balance of 60% determinate and 40% indeterminate is ideal.

What to target
Cut back to healthy foliage and target flower likely to set fruit in exposed area prone to sunburn and wind damage.

What to expect
Increased fruit size in year 1 with slight drop in yield

Similar fruit size in year 2 with much higher yield from trees flower pruned compared to those that weren't.

Year 2 results of a flower and fruitlet removal trial looking at the effect the timing of crop load reduction has on return crops. Trial was run from 2015- 2017 and was carried out on a Katikati orchard in the Bay of Plenty.
November | Apply mulch
10cm is an ideal mulch thickness. Apply additional mulch if exisiting mulch is not adequate.
Avocado leaf is best mulch type but chiped avocado pruning is great as well. Coarse wood chip, bark or shelter prunings is ok as well.
Any non-avocado material to be used as mulch should ideally be aged for 6 – 12 months before applying to trees.
October - November | Plant trees
It's ok to plant trees anytime if protected appropriately from frost, sun and wind.
Review the updated planting guide on how to take delivery of trees, inspect them, plant and care during early development.
Plant trees as soon as practical after delivery.
Plants will get going once they have recovered from transplant shock and once temperatures are warm enough.
Follow planting guidelines and avoid over watering.
If replanting avocados into and existing avocado orchard it is storngly advised to replant with a clonal rootstock with tolerance to Phytophthora root rot.
SR1 and Latas rootstocks are performing well in Whangarei cultivar trial but perforamnce is unknown in Bay of Plenty and Far North yet.
For more information on the different rootstocks available and their performance in different trials click here.

Ongoing | Monitor soil moisture and use spring irrigation trigger points
Ideal mulch depth is 10cm of avocado leaf or coarse mulch material
Use soil moisture monitoring to inform irrigation
Install soil moisture monitoring on the Northern (Sunny) side of a representative tree in the block being irrigated. Probes should be half way between trunk and the drip line of the tree and in a spot that irrigation reaches if the orchard is irrigated.
If using tensiometers such as Irrometer or TenTek brands
Use 15cm probe for irrigation trigger (i.e. start irrigation system when readings below are reached)

Bay of Plenty = -30kPa
Whangarei = -50kPa
Far North = -20 to -25kPa

Use a 30cm probe to inform sprinkler volume per hour and/or length of irrigation
Applying 20 – 30mm of water per irrigation is a good starting point

Work out how many mm of water your sprinklers apply using the formula (mm/hour =(sprinkler volume L/hr) ÷(π X radius of sprinkler throw²)
e.g sprinkler head delivering 100L/hr with a radius of 4m
mm/hr = (100) ÷ (3.142 X 4²)
mm/hr = 100 ÷ 50.3
1.99mm/hr
So a 100L/hr sprinkler with a throw of 4m radius will deliver 1.99mm of water every 1 hour the irrigation system is run. To deliver 20mm of water the irrigation system would need to be run for 10 hours.

If the 30cm probe is drying beyond the trigger point before the 15cm probe → increase volume of water by changing sprinkler head to higher flow rate or irrigating for longer.
If the 30cm probe is reading a lot lower than the 15cm probe indicating the soil at 30cm is alot wetter than the 15cm soil →  Decrease volume of water delivered at each irrigation by changing sprinkler head to lower flow rate or irrigate for a shorter period. You may need to increase frequency of irrigation events but decrease the volume of water delivered at each irrigation.
Addition of mulch up to acheive a depth up to 10cm will help retain moisture in top 15cm of soil.
For more information relating to, irrigation, optimum use, consent, good management and rules, visit the link here
For free access to Irrigation NZ resources, visit the link here.
Winter
Growth stages
June – August
The tree may appear dormant but this is the key period when stored carbohydrates are accumulated to support future growth and fruit production.
Fruit continue to size at a linear rate.
For a video of the phenology of a regular bearing tree, visit the link here.
For a video of the phenology of a irregular bearing tree, visit the link here.
April - June | Fertiliser planning
If you haven't already done so, combine information from recent soil and leaf test results, crop estimates for this season and historic soil and leaf test results to review your fertiliser plan.

Focus on whether the fertiliser plan is adequate for your crop load and whether historc fertiliser applications kept pace with nutrient removal. Can anything be learned by comparing soil and leaf test results from previous seasons with this season's results?
Ask your fertiliser consultant the following questions:
Does my crop load match my fertiliser plan?
What are the base soil applications I need to keep up even if I haven't set a crop on some trees?
Based on the crop load I'm seeing, can I reduce applications of some nutrients or do I need to put more on? Nitrogen and Potassium?
A good fertiliser should support the crop load you have not the one you thought you might have.
For more information on nutrients and fertiliser use, click here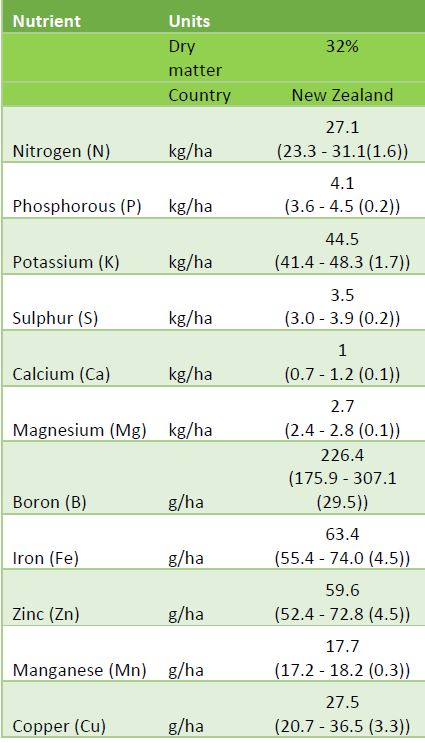 June - September | Structural pruning
Prune to maximize light interception.

Closer tree spacing will mean trees need to be kept smaller to avoid shading. A good rule of thumb is to not let tree height reach above 70% of row width (e.g. if trees are spaced 10 metres apart, do not let them get higher than 7 metres).
Windows, 'V's and vase shapes can all be used to maximize light interception. Light will not penetrate more than 1.5 metres through a canopy. Choose a style that makes sense to you and fits the other common principles of pruning below.

Prune for both spray and harvesting access.

Picking efficiency and good pest and disease control will improve profits at the end of the season. Downgraded fruit through pest damage is a lost opportunity and picking costs make up a significant proportion of on-orchard cost. Pruning for access generally goes hand in hand with pruning for light but think about how pickers are going to access fruit. Are there a lot of smaller limbs making access more difficult than it needs to be? Are there low sweeping limbs that will impede hydralada access, slowing them down, that could be removed?

Prune to rejuvenate the tree.

This is tree dependent but ultimately think ahead to how pruning now is going to help create productive wood this year, next year and the year after that.
For a sick tree, refrain from pruning too many leaves until spring. Prune as much fruit off as possible to remove the drain on resources. Leaving as many leaves as possible on the tree until spring will help the tree harvest energy over winter to support new growth in spring. The tree will grow back with more vigor when pruned in the spring than if you prune it in winter.
For a dark tree that has little or no growth on the inside of the canopy. Cut holes in the canopy to allow light into the middle of the tree. Maintain these holes to ensure new growth doesn't shoot away too vigorously as a result of becoming shaded. These new growth points will give you extra surface area to produce fruit and give you options to cut back to in the future.
For a healthy tree, make cuts that give you complexity and different ages of wood. Cutting the tip of more vigorous shoots will cause them to branch, giving more potential fruiting points. Cuts that create new bud break will produce young wood that will likely be productive in future. A tree with different aged wood is less likely to be irregular bearing.

Prune to manage crop load.

It is tempting to leave fruit on trees this close to harvest but if the fruit is likely to become sunburnt before harvest or unlikely to size up, remove the fruit. This will improve your medium term profits by sacrificing some poor crop this year for better quality crop in future years.
If limbs need to be pruned to meet the other common principles above, don't be shy to drop fruit on the ground. If you need the fruit to keep the bank manager at bay then hold onto it but recognize you will likely need to go twice as hard with your pruning next year.
Alternatively you can mark limbs you'd like to prune and get harvesters to strip pick the marked limbs on the first pick and then you can prune them out.
For information relating to canopy management, visit the link here.
June - September | Watch for water logging
Soil moisture is generally at its maximum through winter. This makes it an ideal time to identify areas of poor drainage that might affect tree health. Pooled water or tire tracks left in the soil are signs of a water logged soil. By identifying these areas you might be able to intercept the water where it enters the block and divert it elsewhere or consider other drainage options. It may also help explain areas of lower tree health.
Avoid operating machinery in areas of water logged soil as this will quickly compact soil.
June - August | Irrigation system maintenance
The best time to carry out maintenance on your irrigation system is when you're not using it.
Check pumps, filters, irrigation lines and sprinklers and arrange any work that needs to be done ahead of spring. This is especially important in this time of disrupted international parts supply and high demand for new irrigation systems.
Consider if your sprinkler heads are appropriate for your size and health of tree. High crop load trees will have a higher water demand so be mindful of this when adjusting sprinkler heads.
For free access to Irrigation NZ resources, which include maintenance checklists, visit the link here.
June - November | Frost protection
Frost damage is cumulative so anything that can be done to minimise frost should be done.
Cold air drainage is a great passive frost protection measure. This might be as simple as pruning the bottom meter of shelter to allow cold air to drain into a nearby gully.
Maintaining good nitrogen levels in leaves can help trees resist frost so talk to your consultant or fertiliser planner about whether foliar low-biuret urea might be worth applying if leaves begin to yellow.
Other products such as copper, which prevent ice crystals forming on leaves, can also help.
Use of frost fans relies on inversion layers of warm air and only effect a certain area of the orchard, dependent on their size. Careful consideration should be given to whether a fan is appropriate for your orchard and where best to locate it.
Overhead sprinklers can help fight frost but ensure pulse frequency is adequate to protect the desired blocks with a minimal amount of water. Water logging can damage root systems and if not managed well, this form of frost protection can cause more harm than good.
For information relating to frost protection, visit the link here.
July - August | Prepare ground for new plantings
Spring can often be too wet and too busy to prepare new planting sites as you would like, so take advantage of winter if you can. Avoid operating machinery if soils are water logged as this will compact the soil.
Soil nutrient testing and amendments can be carried out and it may be possible to establish shelter, irrigation and drainage before spring.
To access the grower manual section relating to orchard establishment, visit the link here.
To access the planting guide, visit the link here.
July - August | Install soil moisture probes
Many soil moisture probes disturb the soil when they are being installed. By installing probes in winter, the soil has time to settle back down to give more representative readings.
Some soil moisture probes such as tensiometers do not take long at all to settle so when best to install probes will depend on the probes you are using.
For information relating to soil moisture management, visit the link here.
For free access to Irrigation NZ resources, visit the link here.