AvoGreen®
AvoGreen is a responsible and auditable avocado production system which uses the principles of Integrated Pest Management (IPM), an internationally recognised approach, to ensure pesticides are used only when needed. AvoGreen is a requirement of export and all growers must be AvoGreen compliant in order for their crop to be exported. It is an industry Export Market Strategy (EMS) requirement that PPINs are AvoGreen compliant in order to export fruit.
To be AvoGreen compliant a Grower must have an accredited pest monitor monitoring their orchard for pests under the industry AvoGreen Programme. This can be done by contracting an AvoGreen Operator or becoming licensed as an Owner-operator. Owner-operators undertake the responsibility for AvoGreen monitoring for a PPIN, using an accredited pest monitor.
How do I choose to be AvoGreen compliant?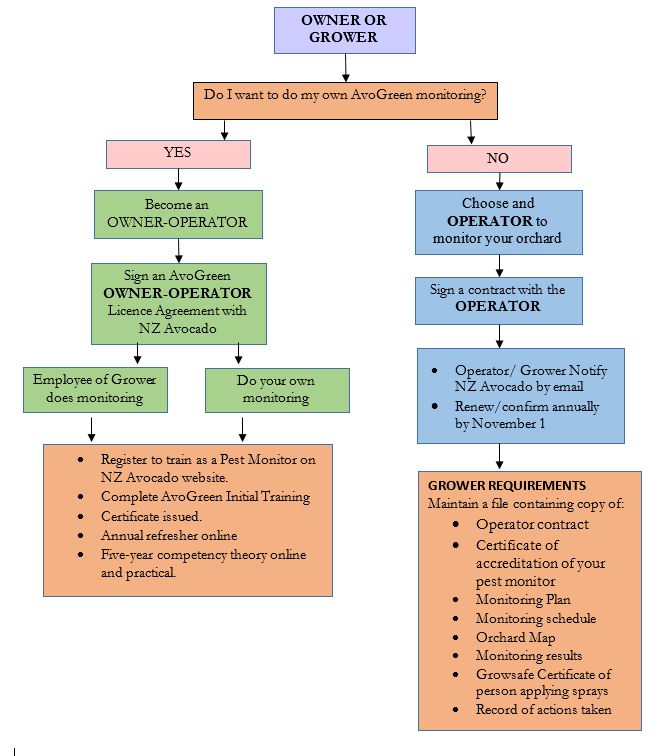 How do I register for AvoGreen training?
To register your interest in AvoGreen training please click here.
AvoGreen® manual
AvoGreen manual full version
The AvoGreen manual is a living document and the AvoGreen programme is reviewed annually. Please ensure that you have a copy of and are using the most up to date version of the AvoGreen manual. Please note section 9 has been updated, please see document below.
AvoGreen® Manual - Section 1 Contents and Definitions
AvoGreen® Manual - Section 2 AvoGreen Introduction
AvoGreen® Manual - Section 3 AvoGreen Structure
AvoGreen® Manual - Section 4 AvoGreen Standard
AvoGreen® Manual - Section 5 Monitoring Protocol
AvoGreen® Manual - Section 6 Pest Monitoring Protocol
AvoGreen® Manual - Section 7 Recording and calculating results
AvoGreen® Manual - Section 8 Calculating action thresholds
AvoGreen® Manual - Section 9 Quarantine Pest Lists and Action Requirements