New Zealand avocados are exported between August and March. Australia is New Zealand's largest export market for avocados. New Zealand avocado exports to Asia are growing rapidly. Asian export markets include South Korea, Thailand, Japan, Singapore, China, Taiwan, Malaysia, and India.
Each of the export markets have different requirements which are managed under the Export Marketing Strategy.
Growers intending to export avocados must meet the following conditions:

Have a PPIN number for your orchard
Be AvoGreen compliant as at 1 November the year prior to the start of the export season.
Maintain an up to date electronic spray diary.
Have a current registration with NZ Avocado for the season they intend to export in – instructions here.
Meet the rules, terms and conditions of the Quality Manual, AvoGreen standards and Food safety.
Have a contract with a registered packer and a licenced avocado exporter. See here for a list of packers and exporters. See here for information about contracts you will be asked to sign.
For export to Thailand, please contact your packhouse.
For export to China, please click here to register for the China market.
If you do not wish to export you can still sell your fruit in the NZ market. Please click here for more information.
AvoGreen® compliance
AvoGreen is a responsible and auditable avocado production system which uses IPM principles to ensure pesticides are only used when necessary. AvoGreen is an export requirement as it means our exporters can give formal assurance to their increasingly discerning offshore customers that avocados from New Zealand have been grown in a responsible way.
All growers intending to export avocados from New Zealand must be AvoGreen compliant by 1 November in the season preceding intended harvest. For example if you wish to export fruit for the 2019-20 season you will need to have been AvoGreen compliant from 1 November 2018.
Click here to read more about AvoGreen®
Export registration
As an export grower you need to register with NZ Avocado each year before you harvest avocados for export.
If you are a NZ Avocado registered grower, you will be sent notification to register for export at the end of June each year. If you are a new grower who is interested in exporting, please contact your packhouse or NZ Avocado for more information.
It is important that export registration is completed by the 31st of July each year, as the information collected is collated and used to estimate the size of the crop for the coming season. Accurate crop estimating enables good marketing which leads to increased grower returns.
Export registration requires a fee payment. Export registration and export management fee income is used to fund governance of the Recognised Product Group, and work on quality performance, enabling exports, knowledge acquisition and information management, new varieties, new market development, market reliability and reputation, meeting market expectations, and assuring market access.
It is important to note that if you are not registered for export with NZ Avocado then your fruit will not be allowed to leave the country.
To register for export please log in to the Avo hub and follow the instructions
Instructions for export registrations can be found here
Market Declarations
China and Thailand require additional registration requirements in the form of grower and packhouse declarations. It is very important to ensure that your fruit has the flexibility of all market access so that your exporter can maximise the opportunities to market your fruit . NZ Avocado strongly encourages you to complete these two market declarations before 31 October. Thailand in particular is a market that you should maintain access to at all times.
The China and Thailand market declarations for the 2024-25 season MUST be completed by 31 October.
Market declarations must be completed online through the Market Declarations tab in your Avo hub. You will see icons for the next season that when clicked on will open up the online declaration for each market.

Declarations for both markets need to be completed by 31 October the year prior to the export season.
Declarations for both China and Thailand must be completed by the grower by the 31st October each year to be able to export fruit to these markets in the following years export season. In addition to completing the declaration, to be eligible to export to China, the orchard (production site) must be listed on the "grower list", submitted by NZ Avocado to MPI, who then submit it to China customs, GACC. The eligibility of the PPIN to export does not happen until GACC approves the grower list with that PPIN and MPI publish the list on their website.
The grower list is compiled by NZ Avocado from those who submitted declarations and is reviewed against grower records by the packhouse. Lists may be updated annually but other factors may mean lists are not updated and submitted annually. Once the grower lists are submitted to China there is no process of amending the list mid-season. A mid-season change in orchard ownership (new PPIN number) will result in that orchard being unable to export to China until a new list is submitted and approved.
Thailand grower lists are held and published by MPI meaning PPINS can be added mid-season and therefore changes in orchard ownership can be facilitated for Thailand.
The industry provides an online process for market declarations. Log in to the Avo hub and select Market Declarations from the top menu.
Growers have the option when declaring for China to split their PPIN into separate 'production sites' allowing parts of their orchard to be managed differently. Please talk with your packhouse before registering separate China production sites to understand any implications and to ensure these are accurately captured during the final review of the China register by the packhouse.
To see the China register click here
PPIN orchard identification number
All fruit exported is tracked through your PPIN orchard number. If you do not have a PPIN number this can be obtained completing an application form and returning it to NZ Avocado.
Please do this as soon as possible to avoid any last minute rush.
Click here for information on obtaining a PPIN
Export marketing strategy (EMS)
The Export Marketing Strategy (EMS) details the obligations of growers, packers and exporters who export avocados from New Zealand. NZ Avocado Industry Ltd is the product group for the export of avocados, under the Horticulture Authority Act. As the product group, NZAIL is required to document the export rules in an EMS. The EMS is reviewed annually and any changes must be approved by the HEA. Growers, packers and exporters are able to make submissions to change any part of the EMS. The review process consults with industry players to review all submissions prior to the CEO recommending changes to the Board. Once changes have been approved by the Board, they are sent to HEA for the final approval.
The Horticulture Export Authority Act is in place to 'promote the effective export marketing of horticultural products'.
You have a responsibility under compliance with the EMS and Food & Safety Act to ensure all sprays and fertilisers used during the year are recorded on a spray diary and submitted to the packhouse when your fruit is packed. The spray diary is electronic and is based on the web. If you require a paper copy version of the diary this is at a cost and is available at the time of registration with NZ Avocado. Various importing countries have different withholding periods and rules for allowing certain sprays and these must be monitored and adhered to for the avocado to be sold in their country.
Please sign in to the website to gains access to Industry tools where you can enter data into your spray diary.
Spray Diary
All growers intending to export avocados must be registered with NZ Avocado Industry Ltd and are required to maintain an electronic spray diary.
The spray diary is an important legal tool providing traceability documentation as part of the avocado export food safety assurance programme. It is the mechanism that collects and stores information on all of the spray applications applied to avocados bound for export and facilitates the calculation as to which markets fruit is cleared for picking and export. This calculation is based on the Maximum Residue Levels (MRL) and Pre-harvest Interval (PHI) of the chemicals used.
A spray diary is assigned to a property at the time a new PPIN is allocated to that property. A login name and password is provided to the grower to enable access to their spray diary. EMS requirements on the use of the spray diary are found in the Quality Manual, Part 2 Grower Responsibilities, Section 4.0 Crop Protection.
A user manual for the spray diary can be accessed under the Information tab once a grower has access to their spray diary
Click here to login to the spray diary and avotools.
Maturity clearance
The systems used to prepare your fruit for export are monitored by AsureQuality under contract by NZ Avocado.
Click here to view the latest maturity monitoring data.
The Ministry for Primary Industries (MPI)
The Ministry for Primary Industries (MPI) has a set of overarching principles that drive the MPI provision of official assurances [to overseas governments] for agricultural, horticultural, forestry and food exports referred to as the MPI Regulatory model. MPI's regulatory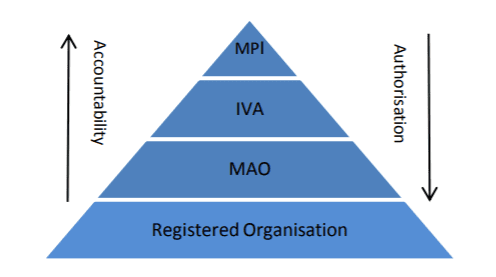 model is based on a partnership approach between government and industry. Under this model, MPI manages the delivery of official assurances through authorising independent verification agencies (IVAs) and in some circumstances approving organisations to undertake services on its behalf.
This model reduces the level of direct government intervention, and places the responsibility for process control, systems management and achievement of required outcomes on industry. It achieves greater flexibility and economic control for individual business and allows government to focus its resources on verification thus improving the cost effectiveness and efficiency of certification.
The MPI regulatory model for plant exports operates through authorised IVAs and MPI approved organisations (MAOs) who undertake services on MPI's behalf. In some official assurance programmes (OAPs), MPI also registers organisations (e.g. growers) to perform specific activities. Process control and risk management approaches are generally accepted worldwide for producing credible official assurances for plant and plant products. These systems based approaches are sometimes replacing end-point inspection as the principal method of providing official assurances such as MPI certification. Although MPI authorises IVAs and approves organisations to undertake services on its behalf, accountability for the issuance of official assurances is retained by MPI. MPI maintains confidence in its assurance system through a comprehensive audit regime of both IVAs and MAOs.
For more information on registering for export contact us on info@nzavocado.co.nz or call 0800 AVOCADO (0800 286 2236)