Following below are recent highlights of NZ Avocado promotion activity in New Zealand and export markets.
June | NZ Market social media competition
In collaboration with St. Pierre's sushi, NZ Avocado ran a social media competition for International Sushi Day.
There were five St. Pierre's vouchers up for grabs. The competition had a reach 23,000 and 1,600 engagements across instagram and facebook.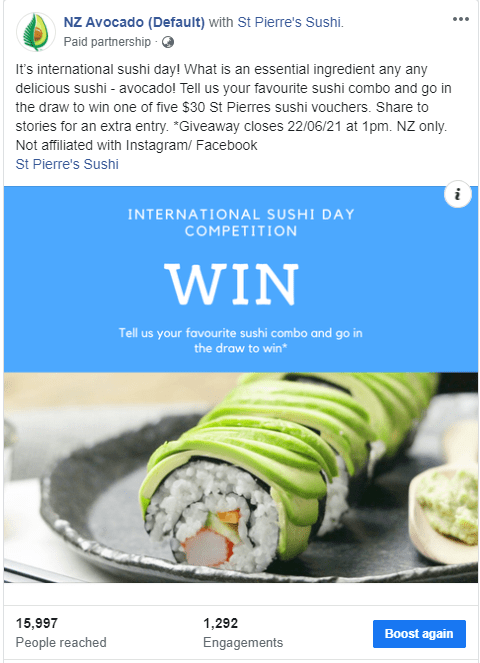 May Week 1 | NZ Market Consumer research
Nielson has provided a report comparing the avocado buying habits of NZ consumers in 2019-20 vs 2020-21 seasons.
HOMESCAN is a state of the art consumer panel providing continuous measurement of actual purchasing from households
Key Findings
Avocado performs ahead of fresh fruit but growth has slowed versus year ago

Average spend increases with higher average prices and $ growth ahead of volume growth
Frequency of avocado purchase is stable while fresh fruit purchased less often
Fewer buyers of avocado this year but household reach still ahead of 2 years ago


** Source: NielsenIQ HomeScan | 52 weeks to 28 March 2021 vs prior years**
Click the tabs below to see updates from previous weeks.
April Week 3 | NZ Market  Group meeting
The NZ Market Group met on Friday 9 April in Auckland. The group is comprised of domestic market supplier representatives and was also attended by a Packers' Forum representative, a NZ Avocado Board exporter rep and the NZ Avocado Growers' Association Chair. The group is facilitated by NZ Avocado to discuss and take action on the issues and opportunities present in the NZ market, and to inform the strategy and business plan for NZ market growth. Key topics of discussion at Friday's meeting included:
A record total value of avocado sales is anticipated for the NZ market for the 2020-21 season. The total value will be published at the close of the season at end of April.
The NZAGA Chair presented the recommendations of the Avocado Industry Structure Review and the process that the Board will follow to progress the recommendations.
Early orchards will begin NZ market maturity clearance testing in May. There are no suggested changes to maturity requirements for NZ market in 2021. The group provided feedback on the collection and testing process and needs related to frequency of testing availability during the early season period in 2021.
Quality standards submissions and EMS submissions were reviewed by the group for feedback on impacts of submissions on the NZ market.
NZ Avocado presented a draft promotions plan for NZ in 2021. The NZ Market Group provided feedback which will be included in the final 2021 promotions plan when it is presented to the NZ Avocado Board.
April Week 2 | Easter recipe
Avocado chocolate mousse is one of the most popular recipes on our website and was originally created for NZ Avocado by Nadia Lim. This recipe was jazzed up with an Easter theme and was the top performing post for organic reach (5.6k)  this year. See post here.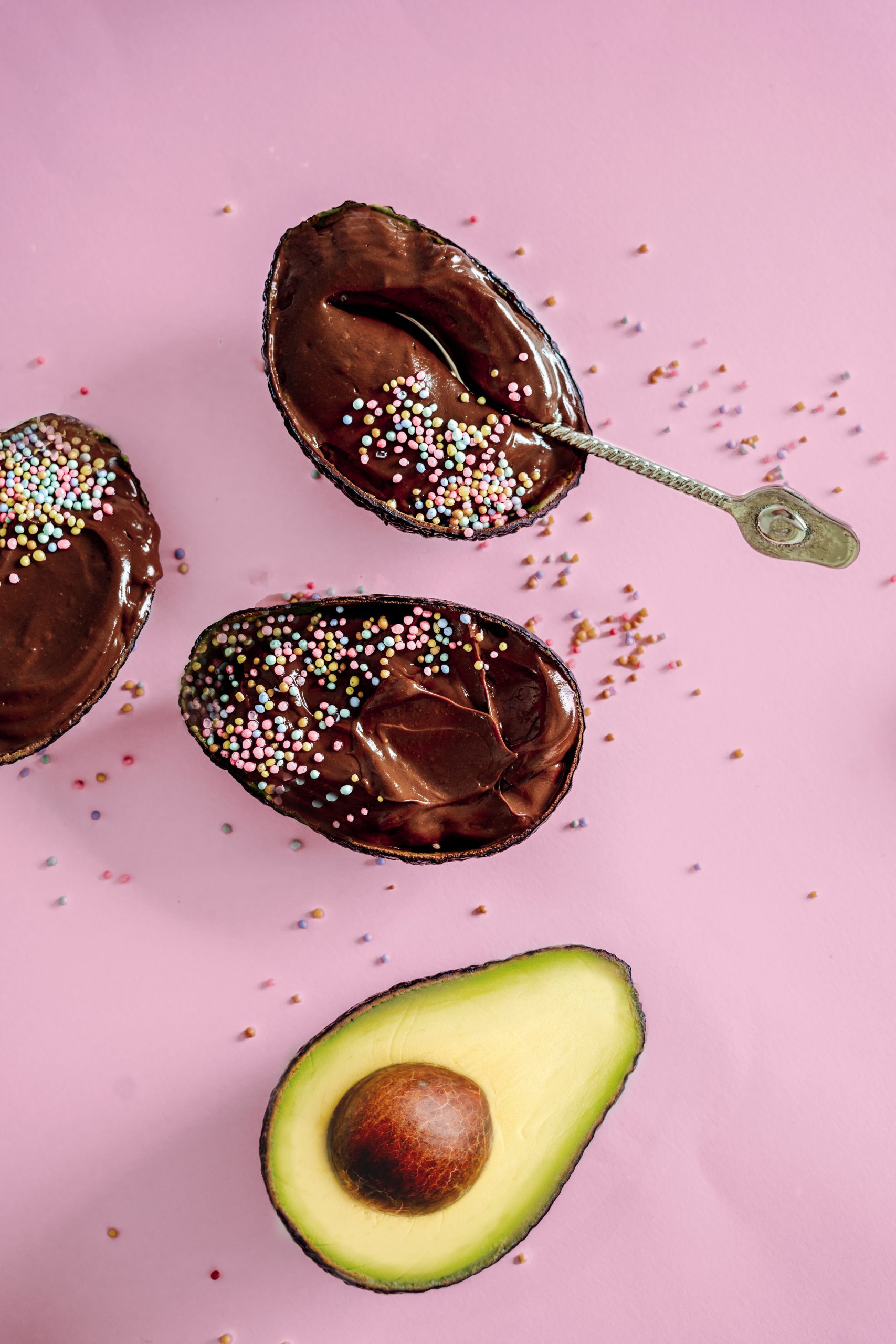 March Week 4 | NZ Recipe development
March Week 4 | NZ Recipe development
As the Autumn weather looms new recipes have been created to suit the cooler weather and display avocados versatility year round. Check out these pulled lamb tacos in this week's facebook post.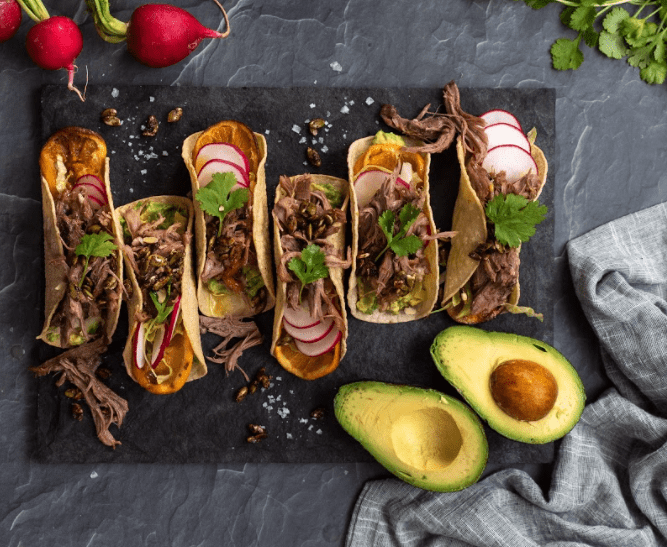 March Week 3 | NZ Social media competition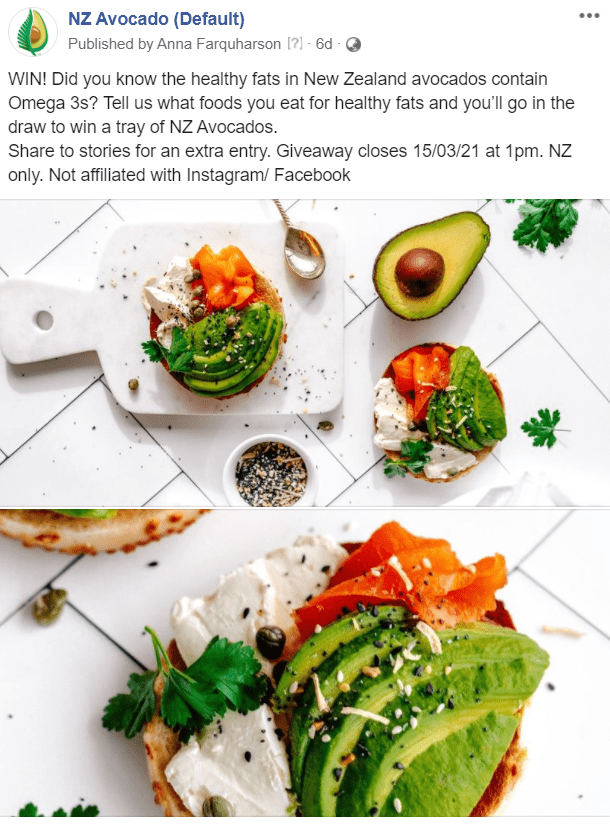 A spike in NZ market volumes was forecast for the first two weeks of March following the end of the avocado export season. To increase visibility for avocados and support consumption of the large volume of fruit in the NZ market during this period, a nationwide competition was promoted on NZ Facebook and Instagram accounts.
Recent consumer research in Asian markets had identified that avocado consumers recognise avocado as a source of healthy fats and that avocados contain Omega 3 fatty acids. The competition promoted avocados while testing nutrition messaging around avocados containing healthy fats and Omega 3s, and asked New Zealanders what other foods they eat for Omega 3s.
The competition reached 10,900 New Zealanders, and entries provided us with feedback on avocado lovers views of healthy fats, the role they play and what other foods they eat which contain them. Avocados topped the list, partnered by salmon, eggs, walnuts, almonds, olive oil, seeds and cream cheese.
March Week 1 | NZ Consumption research
The purpose of the NZ Avocado New Zealand market promotions programme is to support marketers to grow consumption of avocados in New Zealand and improve outcomes for growers. This season New Zealand market promotions activity has included television and online advertising, sponsorship of the Auckland marathon, in-store sampling in New Zealand supermarkets and a social media campaign connecting the unique benefits of avocados with over 1 million New Zealanders. The NZ Avocado website is New Zealand's largest avocado recipe resource and has been visited 174,000 times so far this season.
NZ Avocado uses Nielsen Homescan research to measure avocado consumption in New Zealand. Total NZ market avocado volumes are down on the prior season, a result of a similar total crop volume but much higher export packouts in 2020-21. As a result, in the 2020 Dec-Feb quarter spend per avocado buyer was up, but purchase frequency and the number of households purchasing avocados was down. Highlights of avocado consumption data from the Dec-Feb quarter in New Zealand can be found below.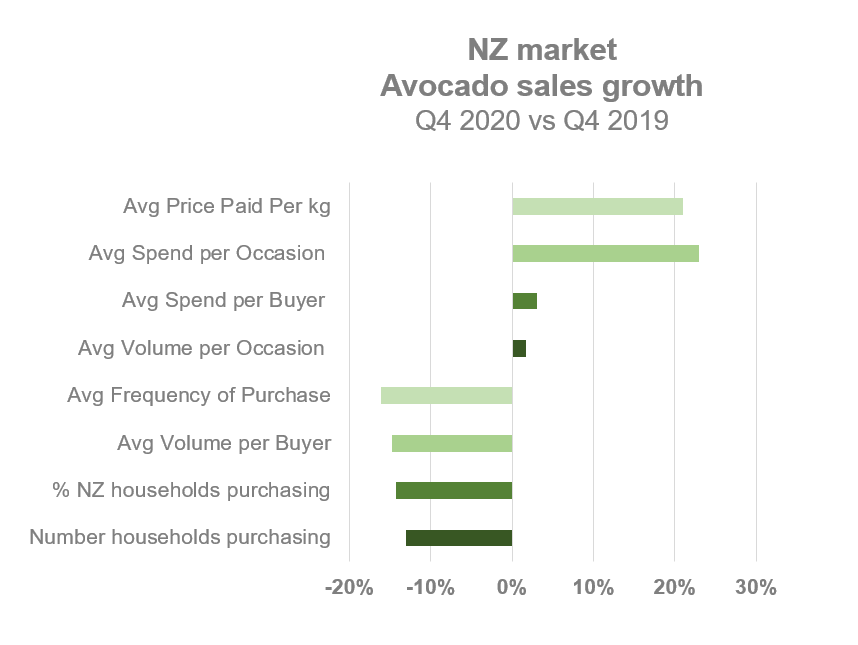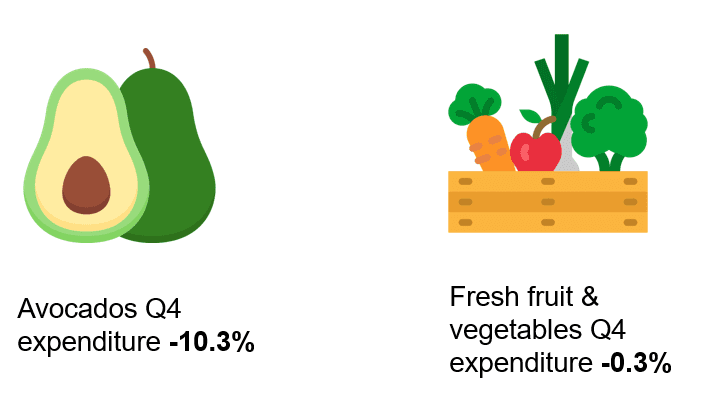 Source: Nielsen Homescan
February Week 3 | Differentiated story project update
NZ Avocado has secured Primary Growth Partnership funding to develop a differentiated story for New Zealand avocados, to make it relevant and effective in our key markets today and in future.
Qualitative insights interviews were undertaken with 18 target consumers in Korea, Thailand and China over the past 8 weeks. The interviews told us about  consumers decision making and trigger points around their food and where it comes from, as well as informing us of their perceptions of avocados from New Zealand and other countries.
Eight potential New Zealand avocado stories were developed collaboratively by NZ Avocado and exporters, exploring New Zealand's unique growing systems, sustainability credentials, avocado taste profile, unique nutrients and more. During the interviews these stories were tested with the consumers, exploring which elements of differentiation really resonate and compel these consumers to purchase and become New Zealand avocado advocates.
Initial findings have highlighted that functional health benefits of produce are a key driver of consumers purchase decision making in these markets, but the consumers surveyed could not articulate what the functional health benefits of avocados are. The work has identified some nutrient attributes in New Zealand avocados that have stirred a high level of interest from the consumers in the market and the next stages will allow further investigation into these with a survey of 1,000 consumers in markets across Asia.
These findings and mechanisms to implement them through both NZ Avocado promotion and exporter brand promotion activity were discussed at the Exporter Promotions Working Group meeting on 24 Feb.  The outcome of this project will be a differentiated New Zealand avocado story for use in the 2021 season and beyond.

February Week 2 | Australia season summary  
17 Australian influencers were engaged to develop seasonal food, nutrition and healthy living posts to connect New Zealand avocado story with their Australian followers over summer. Novel recipe content received high response rates with the New Zealand avocado brownie recipe performing the highest. The influencer posts reached a combined 430,000 Australian followers generating 10,000 responses from their fans.
The summer promotion campaign through the NZ Avocado Facebook page in Australia reached 750,000 Australians and focused on grower stories and New Zealand avocado nutrients.
Social media posts| 11k followers | Reached 1.4m | Engaged 40k
31k website visitors
17 Influencer collaborations | reached 430k
Paid digital advertising – results pending
February Week 1 - Taiwan promotion campaign summary
NZ Avocado exports to Taiwan have grown rapidly in the past three seasons, this season Taiwan is forecast to be New Zealand's third largest market in Asia by export volume.
The first industry promotion campaign in Taiwan launched in 2020. The campaign focussed on connecting the New Zealand avocado story with target consumers in Taiwan through a social media campaign and influencer promotion activity.
A NZ Avocado Taiwan Facebook page was launched and campaign activity through the account reached 413,000 consumers in Taiwan. A collaborating with healthy diet, fitness and cooking influencer May Liu connect New Zealand avocado recipes and nutrient information with 98,000 of her followers.
We connected with 'How Living', Taiwan's largest online recipe website and community to create New Zealand avocado recipes. These were posted on How Living's facebook account reaching 218,000 followers.
The campaign consisted of:
32 posts | 1535 followers recruited | Reached 413k | Engaged 98k
KOL collaboration| health and fitness focus | 6 stories 1 post |98k reached
Platform collaboration | 2 recipe videos | reached 211k
NZTE post x2

January  Week 4 | NZ Avocado sampling
Avocado sampling sessions took place in 45 New Zealand supermarkets this week. During the sessions promotion staff engaged shoppers with avocado treats and distributed NZ Avocado recipe booklets. The recipe booklets showcase avocado recipes at breakfast lunch and dinner and contain facts on avocado nutrients and health benefits. The sampling sessions also promoted the competition to find New Zealand's Biggest Avocado Lover, with shoppers able to enter the competition scanning a QR code on the sampling stand. New Zealand's biggest avocado lover competition is running on NZ Avocado Facebook and Instagram pages. Check it out and encourage your friends to enter here.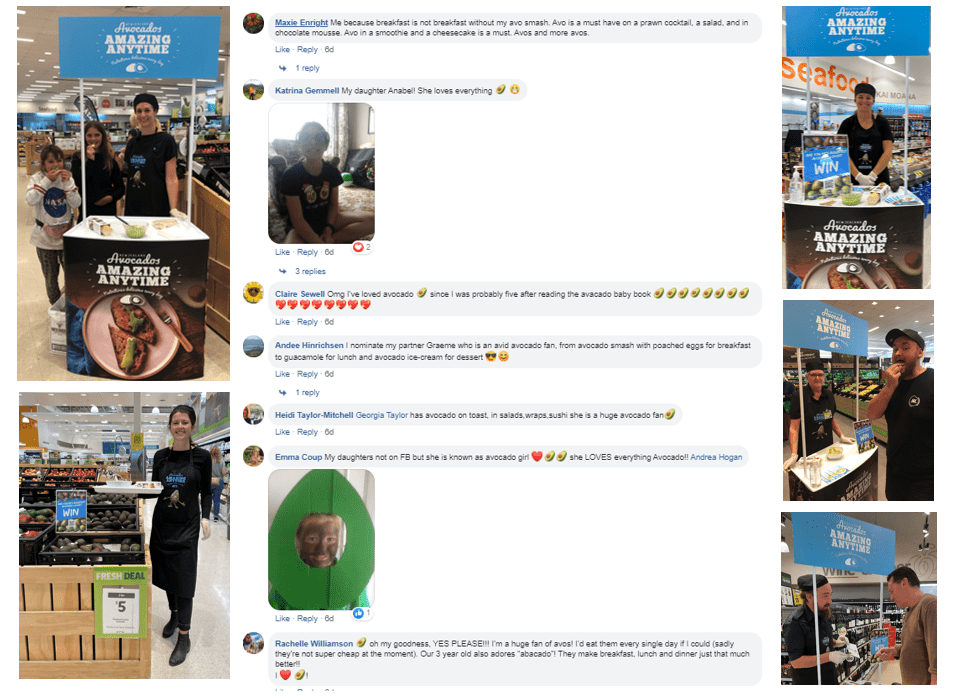 January  Week 3 | NZs biggest Avocado lover competition
We are on the hunt for NZ's biggest avocado lover. The competition launched on Wednesday the 20th with loads of prizes. The competition will run for a month with promotions as supermarket avocado sampling, social media and a web page.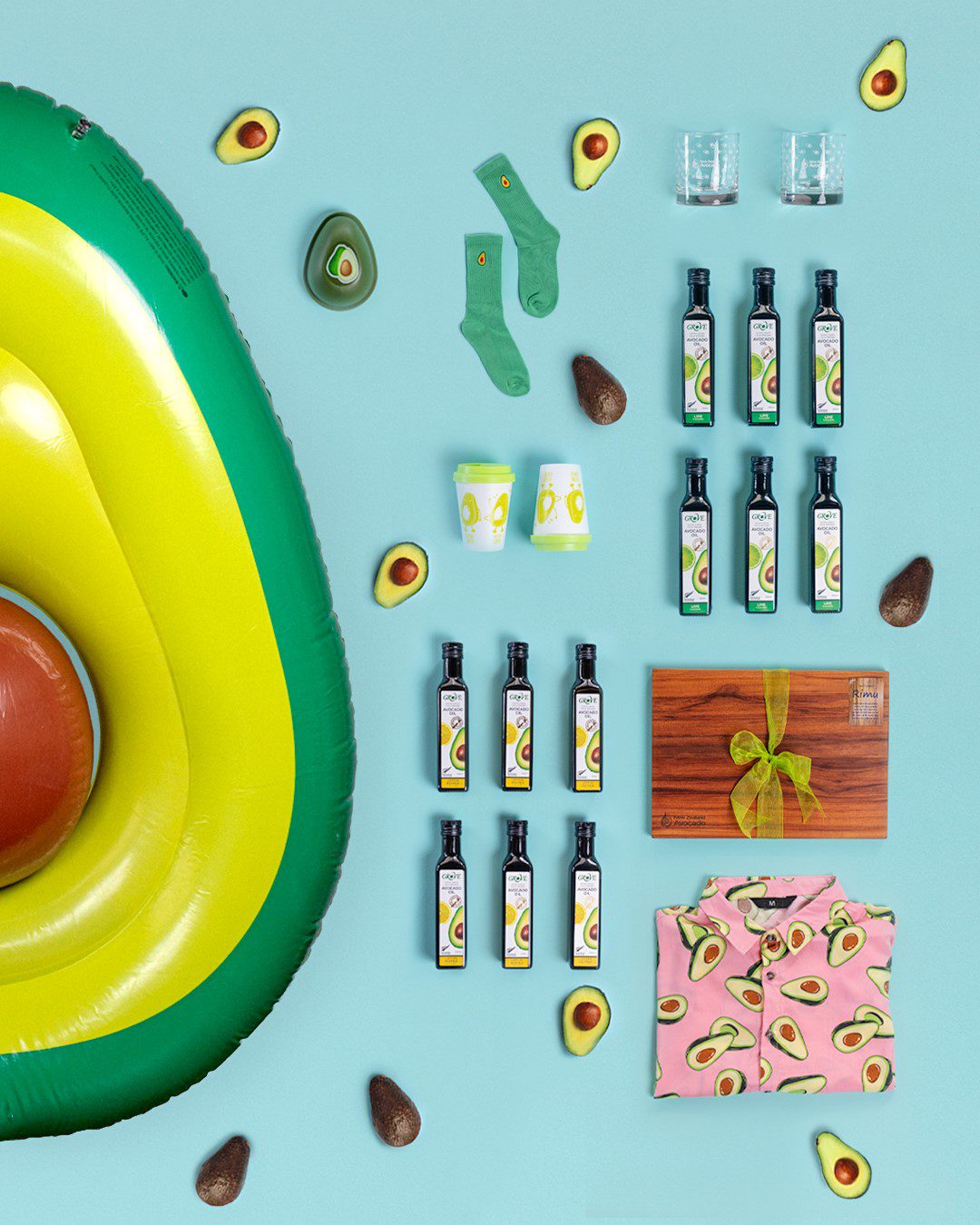 January  Week 2 | NZ Television commercial
January is a busy month for avocados with peaking demand from the Australian market pushing a spike in harvest activity, which also results in an increase of avocados into the NZ market. Summer holidays and consumer attention turning towards an influx of summerfruit also impact avocado consumption in NZ during this period. A two week burst of NZ Avocado television advertising began on 10 Jan to boost avocado visibility for New Zealand consumers. The commercials focus on New Zealand grown provenance, avocado health benefits and versatility and are played on free to air television, boosted by additional placement on TVNZ OnDemand.
December Week 2 | NZ - recipe videos
NZ Avocado partners with Fresh.co.nz to create engaging recipes featuring New Zealand avocados. 12 new recipes have been created for NZ Avocado this season, including the three December recipe videos below. These are shared across our websites and social media platforms in NZ and export markets.  They are also promoted on the Fresh.co.nz website, NZ Herald Eat well website, and through social media accounts of other Fresh partner food brands. To see more avocado recipes visit the NZ Avocado consumer website here.
December Week 1 | Taiwan - recipe collaboration
NZ Avocado exports to Taiwan have grown rapidly in the past three seasons, this season Taiwan is forecast to be New Zealand's third largest market in Asia by export volume. NZ Avocado is undertaking it's first promotion campaign in Taiwan in 2020. In December we collaborated with 'How Living' , Taiwan's largest online recipe website and community to create New Zealand avocado recipes for consumers in Taiwan. These were posted on How Living's facebook account which has 600k  followers.
The avocado cheese pudding recipe had over 450 comments and the avocado baked eggs had over 300 comments. Visit the NZ Avocado Taiwan page here.
November Week 4 | Thailand - Viral influencer post
In the Thai market  15 influencers are a feature of the marketing campaign this season. A recent post about beauty benefits of avocado has been popular with over 2,272 likes on the post. The influencer @sweetvarnvarn is a popular athlete and nutrition blogger with over 140k followers.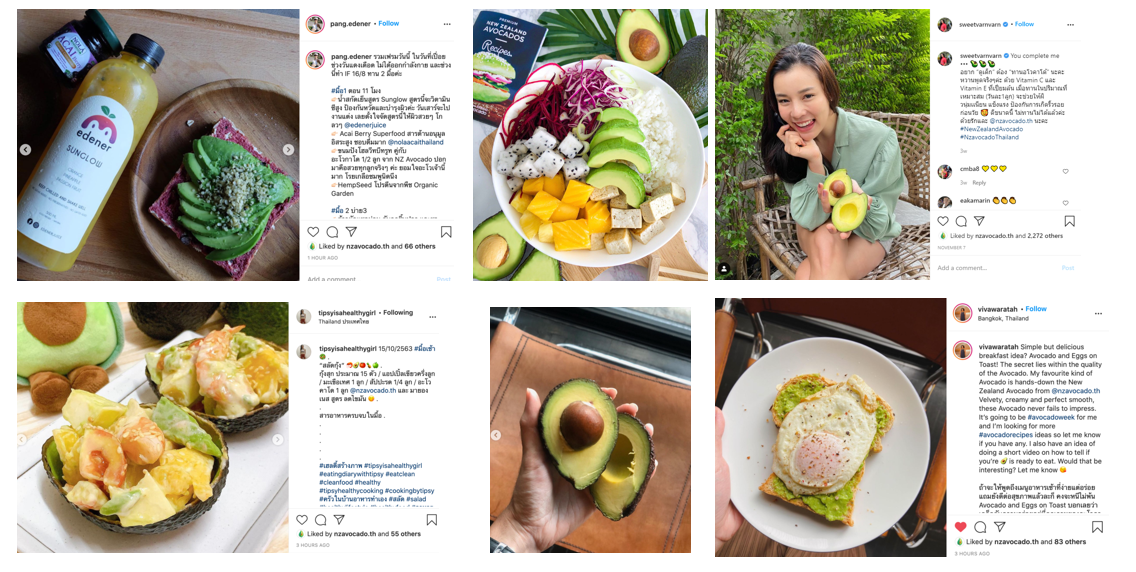 November Week 3 | ASB Auckland Marathon – Photo Competition
The Auckland marathon provided a fantastic opportunity for NZ Avocado to inspire healthy lives through avocados and exercise. At the finish line we had a photo competition, asking runners to pose for a photo with their avocado props and tattoos, and the photo with the most likes on Facebook received a prize pack of avocado goodies.
Hundreds of avocado-loving runners shared their snaps on social media, and the competition winner's photo received 104 likes. Spot the avocado tattoos in the photos below…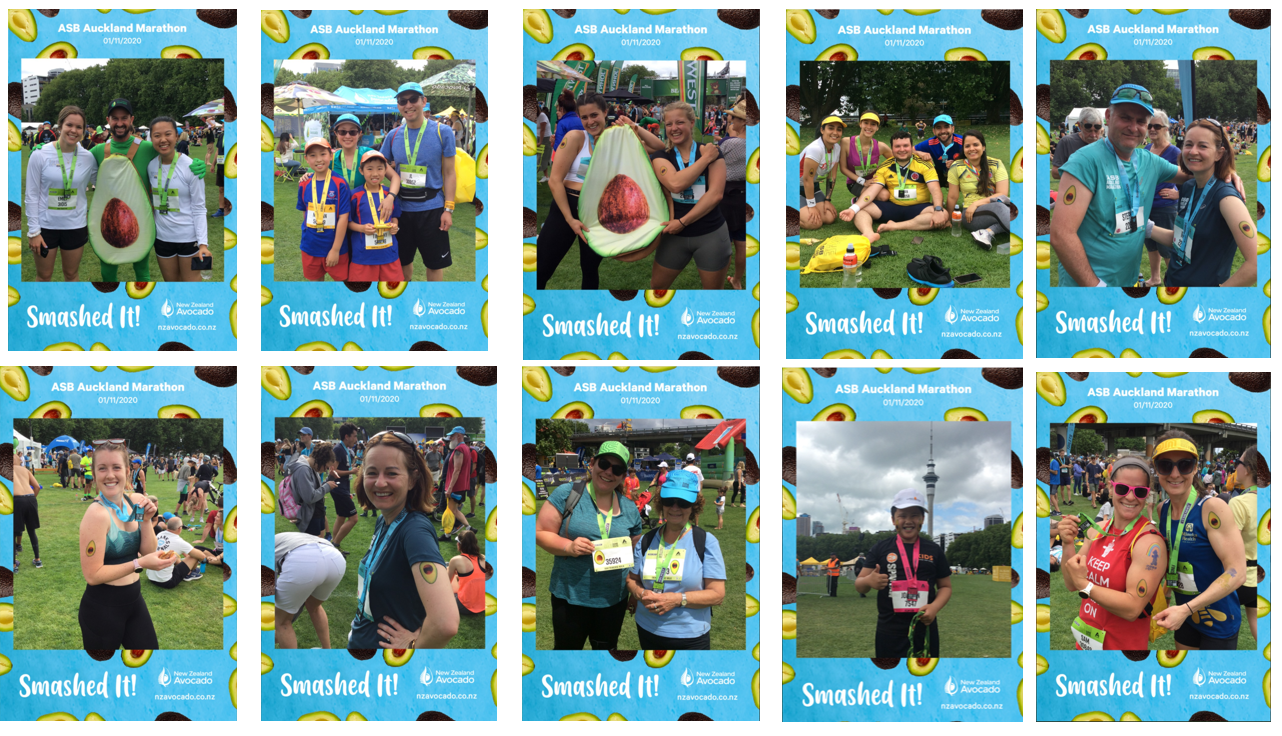 November Week 2 – Asia | Differentiated story workshop
The Premium Avocados from New Zealand category story was developed in 2013 to differentiate New Zealand avocados in key export markets, and provide consistency to the messages used by NZ Avocado and exporters when promoting avocados from New Zealand. The promotions story is used in eight markets across Asia.
The world has changed since 2013 and so have consumer needs in New Zealand's avocado markets, with growing volumes from avocados from other countries of origin, increasing consumer familiarity with avocados, global news stories on avocado sustainability, and a world-wide health pandemic.
NZ Avocado has secured Primary Growth Partnership funding to evolve the differentiated story for New Zealand avocados, to make it relevant and effective in our key markets today and in future. A workshop was attended by 8 avocado exporters in November to begin development of the next phase of the differentiated story, with a focus on markets in Asia where volumes from South American supply countries continue to increase.
Multiple stories leveraging the unique qualities of avocados grown in New Zealand will be developed and tested with consumers in key markets, to identify a story that is truly differentiated, defendable and that compels consumers to purchase. The differentiated story will be developed with exporter and grower input and available for use in the 2021 export season.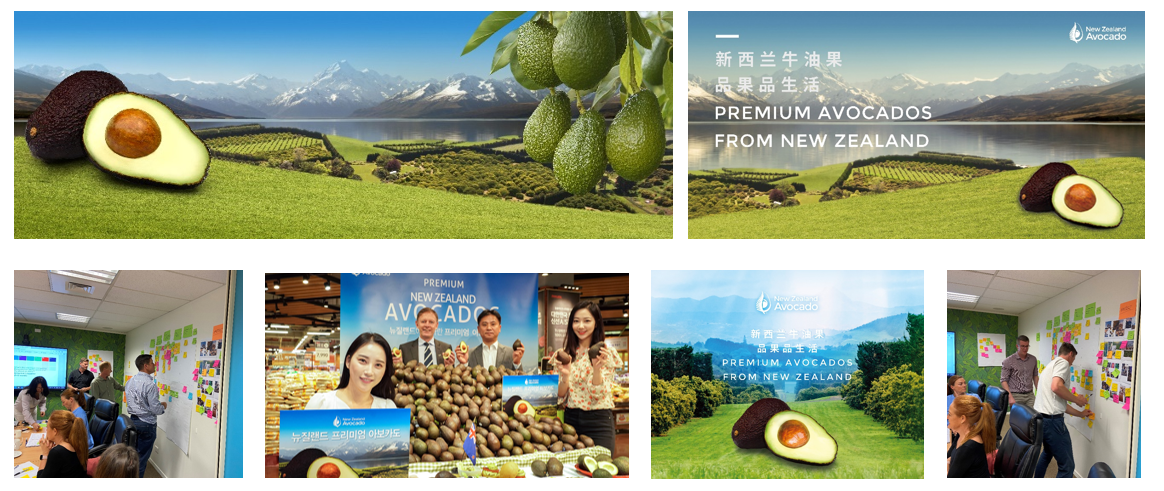 November Week 1 – NZ | ASB Auckland Marathon - 5km sponsorship
14,000 hungry runners and 35,000 supporters were fed avocado on toast at the ASB Auckland Marathon in November. NZ Avocado was the official avocado partner of the event and title sponsor of the NZ Avocado 5km race. The partnership with the Auckland marathon was a great match to promote the unique nutrients of avocados to New Zealanders on a health and wellness journey.
Sponsorship included 2 days of promotion at the marathon registration expo, promotion via the Auckland marathon social media accounts, NZ Avocado logos on the medals to every race participant, branded race banners and flags at the start and finish line and a space at the finish line village at Victoria Park for the avocado on toast activation.

October Week 4 - Thailand | Online ad
Thailand will be the largest market by volume for New Zealand avocados in Asia in 2020, with over 237,000 trays currently forecast for export.
With travel and contact restrictions in place, the 2020 promotions campaign is focusing on online advertising, influencer promotion and promotion via social media. The NZ Avocado Thai translated online advertisement has been viewed 440,000 times in Thailand so far this season. The advertisement combines messages of safe and trusted avocado production with avocado nutrients, health and wellbeing.
October Week 3 - Taiwan | Campaign launch
The first industry promotion campaign in Taiwan launched in October. The campaign will run through to January 2021, focusing on connecting the New Zealand avocado story with target consumers in Taiwan through a social media campaign and influencer promotion activity.
The NZ Avocado Taiwan Facebook page went live in October and now has  over 1000 followers.

October Week 2 - Australia | Campaign launch
The NZ Avocado social media campaign for Australia 2020 started in October. in Australia, we promote avocados using the promotions theme great avocados, grown with care. Messaging focuses on the care New Zealand avocado growers take in growing avocados for Australia, as well as the care for New Zealand's unique environment that surrounds our orchards. Promotions activity in 2020 will  focus primarily on recipes, health messages and avocado tips created by Australian food, health and parenting influencers, plus social media posts on NZ Avocado's Australian Facebook and Instagram accounts.
15 Australian influencers have been selected and content will be shared over the coming months. Novel recipe content is receiving higher response rates that previous seasons – the New Zealand avocado brownie recipe performing the highest.

October Week 1 - NZ | Influencer send out
An influencer send out was also completed in October. 26 NZ influencers received an avocado chocolate mousse kit, avocados and instructions on how to grow and avocado from a seed. This was shared by 14 influencers with a combined audience of 843k

April  Week 1 | NZ Seasonality post
As we head into April and May we are anticipating a reduction in NZ market volumes. Historically around this time we receive enquiries about avocado pricing from media and consumers.
This week's post in this social media gives consumers some insight into avocado seasonality and lets them know the new season is a few months off. This is aimed at reducing the negative sentiment and media that is often seen at this time of year as the prices increase. See post here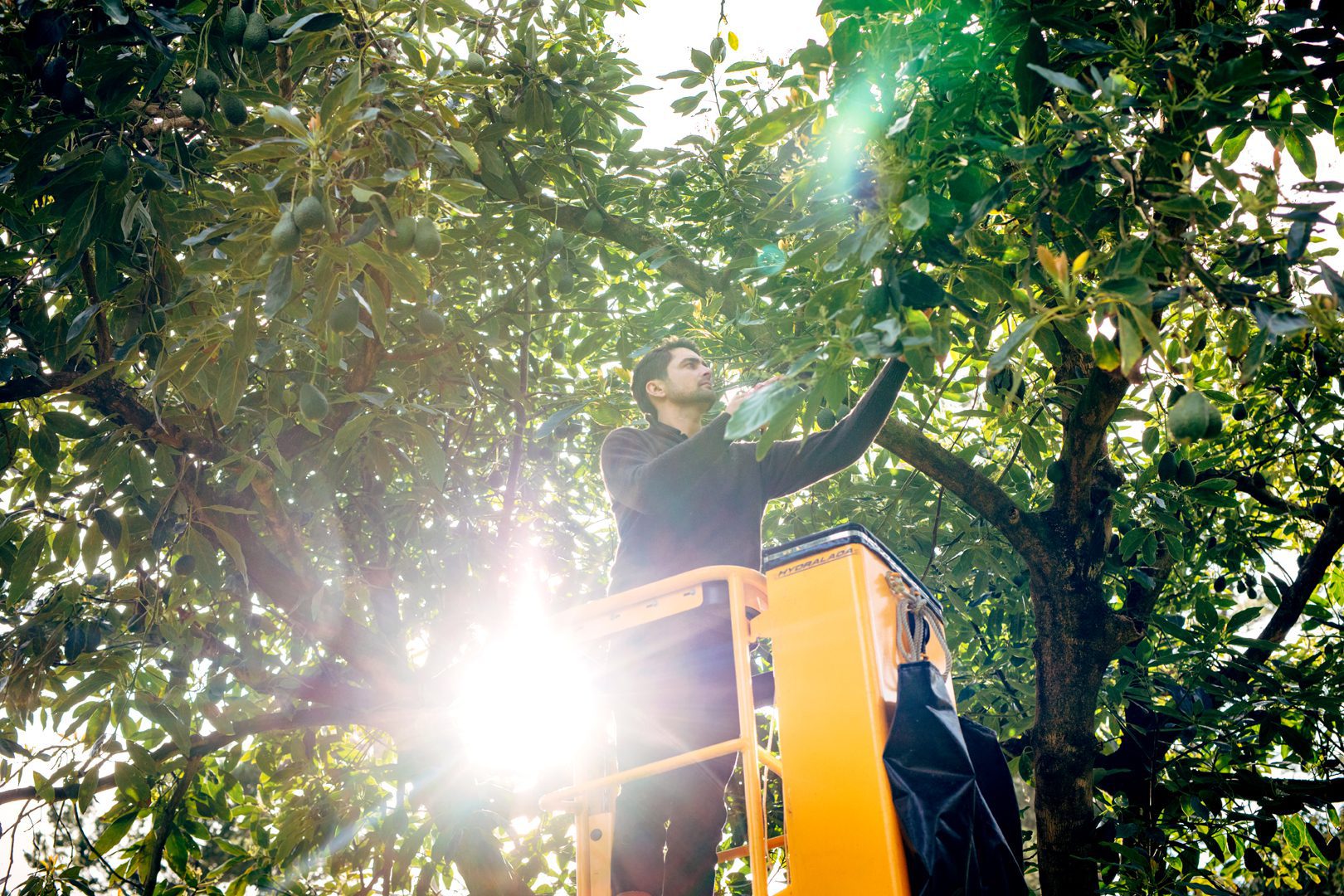 Avocado promotion activity is undertaken by NZ Avocado using grower levy funding. Promotion activity supports the industry strategic objective to develop and maintain markets collaboratively and at value, to absorb a growing supply of New Zealand avocados.
The purpose of promotion activity is to raise visibility for avocados from New Zealand in priority markets and to connect a story of avocados from New Zealand with consumers that is compelling, memorable and creates action.
NZ Avocado collaborates with the AVEC Promotions Working Group and the New Zealand Market Group to prioritise markets for development and identify promotion activities that best support the activity of exporters and New Zealand marketers.