Following below are recent highlights of NZ Avocado promotion activity in New Zealand and export markets.
January Week 3 | NZ's biggest Avocado lover competition
We are on the hunt for NZ's biggest avocado lover. The competition launched on Wednesday the 20th with loads of prizes. The competition will run for a month with promotions as supermarket avocado sampling, social media and a web page.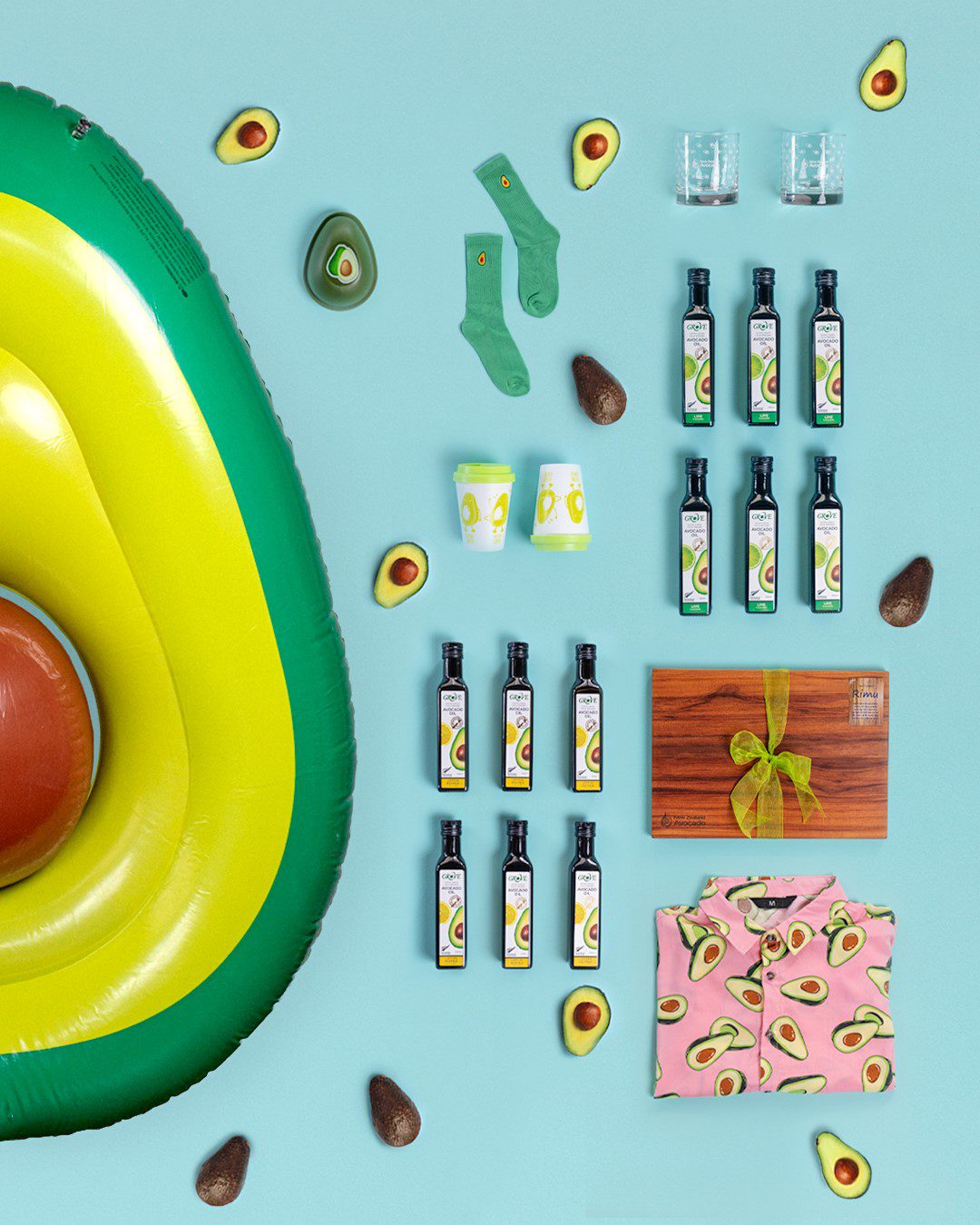 January Week 2 | NZ Television commercial
January is a busy month for avocados with peaking demand from the Australian market pushing a spike in harvest activity, which also results in an increase of avocados into the NZ market. Summer holidays and consumer attention turning towards an influx of summerfruit also impact avocado consumption in NZ during this period. A two week burst of NZ Avocado television advertising began on 10 Jan to boost avocado visibility for New Zealand consumers. The commercials focus on New Zealand grown provenance, avocado health benefits and versatility and are played on free to air television, boosted by additional placement on TVNZ OnDemand.
Click the tabs below to see updates from previous weeks.
December Week 2 | NZ - recipe videos
NZ Avocado partners with Fresh.co.nz to create engaging recipes featuring New Zealand avocados. 12 new recipes have been created for NZ Avocado this season, including the three December recipe videos below. These are shared across our websites and social media platforms in NZ and export markets.  They are also promoted on the Fresh.co.nz website, NZ Herald Eat well website, and through social media accounts of other Fresh partner food brands. To see more avocado recipes visit the NZ Avocado consumer website here.
December Week 1 | Taiwan - recipe collaboration
NZ Avocado exports to Taiwan have grown rapidly in the past three seasons, this season Taiwan is forecast to be New Zealand's third largest market in Asia by export volume. NZ Avocado is undertaking it's first promotion campaign in Taiwan in 2020. In December we collaborated with 'How Living' , Taiwan's largest online recipe website and community to create New Zealand avocado recipes for consumers in Taiwan. These were posted on How Living's facebook account which has 600k  followers.
The avocado cheese pudding recipe had over 450 comments and the avocado baked eggs had over 300 comments. Visit the NZ Avocado Taiwan page here.
November Week 4 | Thailand - Viral influencer post
In the Thai market  15 influencers are a feature of the marketing campaign this season. A recent post about beauty benefits of avocado has been popular with over 2,272 likes on the post. The influencer @sweetvarnvarn is a popular athlete and nutrition blogger with over 140k followers.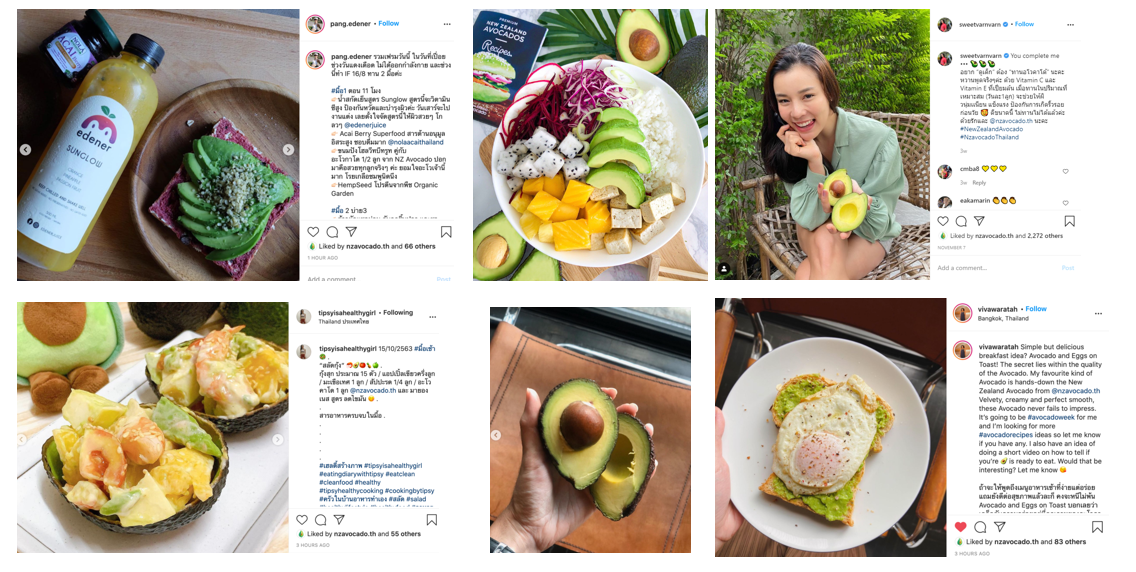 November Week 3 | ASB Auckland Marathon – Photo Competition
The Auckland marathon provided a fantastic opportunity for NZ Avocado to inspire healthy lives through avocados and exercise. At the finish line we had a photo competition, asking runners to pose for a photo with their avocado props and tattoos, and the photo with the most likes on Facebook received a prize pack of avocado goodies.
Hundreds of avocado-loving runners shared their snaps on social media, and the competition winner's photo received 104 likes. Spot the avocado tattoos in the photos below…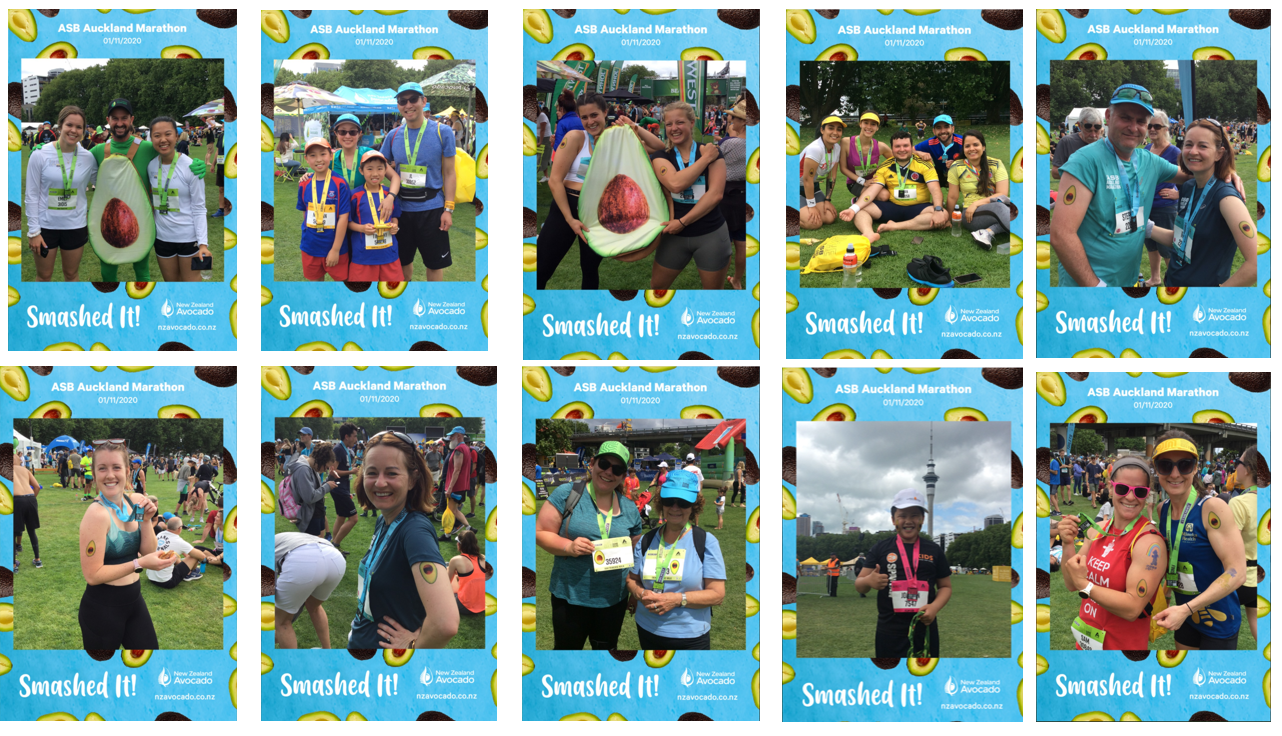 November Week 2 – Asia | Differentiated story workshop
The Premium Avocados from New Zealand category story was developed in 2013 to differentiate New Zealand avocados in key export markets, and provide consistency to the messages used by NZ Avocado and exporters when promoting avocados from New Zealand. The promotions story is used in eight markets across Asia.
The world has changed since 2013 and so have consumer needs in New Zealand's avocado markets, with growing volumes from avocados from other countries of origin, increasing consumer familiarity with avocados, global news stories on avocado sustainability, and a world-wide health pandemic.
NZ Avocado has secured Primary Growth Partnership funding to evolve the differentiated story for New Zealand avocados, to make it relevant and effective in our key markets today and in future. A workshop was attended by 8 avocado exporters in November to begin development of the next phase of the differentiated story, with a focus on markets in Asia where volumes from South American supply countries continue to increase.
Multiple stories leveraging the unique qualities of avocados grown in New Zealand will be developed and tested with consumers in key markets, to identify a story that is truly differentiated, defendable and that compels consumers to purchase. The differentiated story will be developed with exporter and grower input and available for use in the 2021 export season.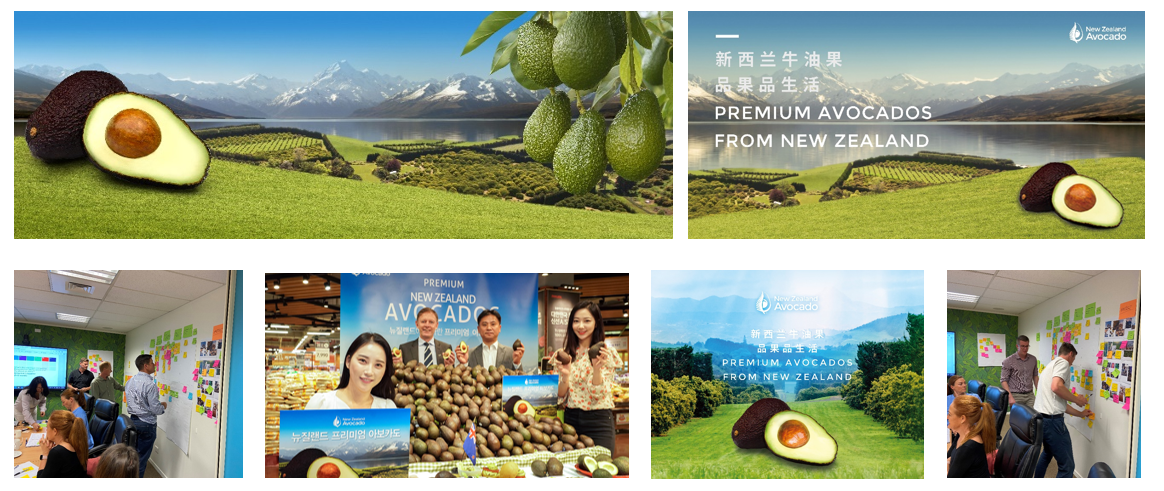 November Week 1 – NZ | ASB Auckland Marathon - 5km sponsorship
14,000 hungry runners and 35,000 supporters were fed avocado on toast at the ASB Auckland Marathon in November. NZ Avocado was the official avocado partner of the event and title sponsor of the NZ Avocado 5km race. The partnership with the Auckland marathon was a great match to promote the unique nutrients of avocados to New Zealanders on a health and wellness journey.
Sponsorship included 2 days of promotion at the marathon registration expo, promotion via the Auckland marathon social media accounts, NZ Avocado logos on the medals to every race participant, branded race banners and flags at the start and finish line and a space at the finish line village at Victoria Park for the avocado on toast activation.

October Week 4 - Thailand | Online ad
Thailand will be the largest market by volume for New Zealand avocados in Asia in 2020, with over 237,000 trays currently forecast for export.
With travel and contact restrictions in place, the 2020 promotions campaign is focusing on online advertising, influencer promotion and promotion via social media. The NZ Avocado Thai translated online advertisement has been viewed 440,000 times in Thailand so far this season. The advertisement combines messages of safe and trusted avocado production with avocado nutrients, health and wellbeing.
October Week 3 - Taiwan | Campaign launch
The first industry promotion campaign in Taiwan launched in October. The campaign will run through to January 2021, focusing on connecting the New Zealand avocado story with target consumers in Taiwan through a social media campaign and influencer promotion activity.
The NZ Avocado Taiwan Facebook page went live in October and now has  over 1000 followers.

October Week 2 - Australia | Campaign launch
The NZ Avocado social media campaign for Australia 2020 started in October. in Australia, we promote avocados using the promotions theme great avocados, grown with care. Messaging focuses on the care New Zealand avocado growers take in growing avocados for Australia, as well as the care for New Zealand's unique environment that surrounds our orchards. Promotions activity in 2020 will  focus primarily on recipes, health messages and avocado tips created by Australian food, health and parenting influencers, plus social media posts on NZ Avocado's Australian Facebook and Instagram accounts.
15 Australian influencers have been selected and content will be shared over the coming months. Novel recipe content is receiving higher response rates that previous seasons – the New Zealand avocado brownie recipe performing the highest.

October Week 1 - NZ | Influencer send out
An influencer send out was also completed in October. 26 NZ influencers received an avocado chocolate mousse kit, avocados and instructions on how to grow and avocado from a seed. This was shared by 14 influencers with a combined audience of 843k

Avocado promotion activity is undertaken by NZ Avocado using grower levy funding. Promotion activity supports the industry strategic objective to develop and maintain markets collaboratively and at value, to absorb a growing supply of New Zealand avocados.
The purpose of promotion activity is to raise visibility for avocados from New Zealand in priority markets and to connect a story of avocados from New Zealand with consumers that is compelling, memorable and creates action.
NZ Avocado collaborates with the AVEC Promotions Working Group and the New Zealand Market Group to prioritise markets for development and identify promotion activities that best support the activity of exporters and New Zealand marketers.