We work alongside growers to promote and advance the industry by packing the goodness of New Zealand into every slice of avocado we share with the world.
The New Zealand avocado industry is vibrant and growing with a vision and strategy in place to quadruple sales to $280m and triple productivity by 2023. The industry is pursuing exciting opportunities in both export and the New Zealand markets, supported by innovation and collaboration with stakeholders and with new partnerships with the Crown and Crown Research Institutes.
New Zealand currently produces just 2% of the global supply but is the ninth largest international avocado exporter. There are over 4,000 hectares of avocado trees planted in New Zealand, primarily in the Bay of Plenty and Northland.
Industry strategy
The industry vision is to optimise grower profitability over the long term.
The industry strategy is described in industry overview below.
See video presenation of 2020 overview below:
The New Zealand Avocado industry overview
Download Industry Overview presentation below
FIVE YEAR PLAN TO MAXIMISE GROWER PROFITABILITY OVER THE LONG TERM
To meet the needs of growers for a sustainable and profitable return, the industry vision is to maximise grower profitability over the long term.
Strategic objectives:
Research programme meets needs of the growers and influences consistent deliver of premium avocados to meet consumer needs.
Markets are developed and maintained collaboratively at value to absorb growing supply of avocados.
Efficient and effective systems support both the needs of the industry stakeholders and consistent delivery of premium avocados to meet consumer needs.
Grower stakeholder levies are invested to maximise grower profitability over the long term.
Governance of industry operates to best practice.
Sustainability outcomes guide industry practices and growth.
Safeguard sanitary and phytosanitary market access.
Downland the full situation analysis and five year plan below
Growth in industry value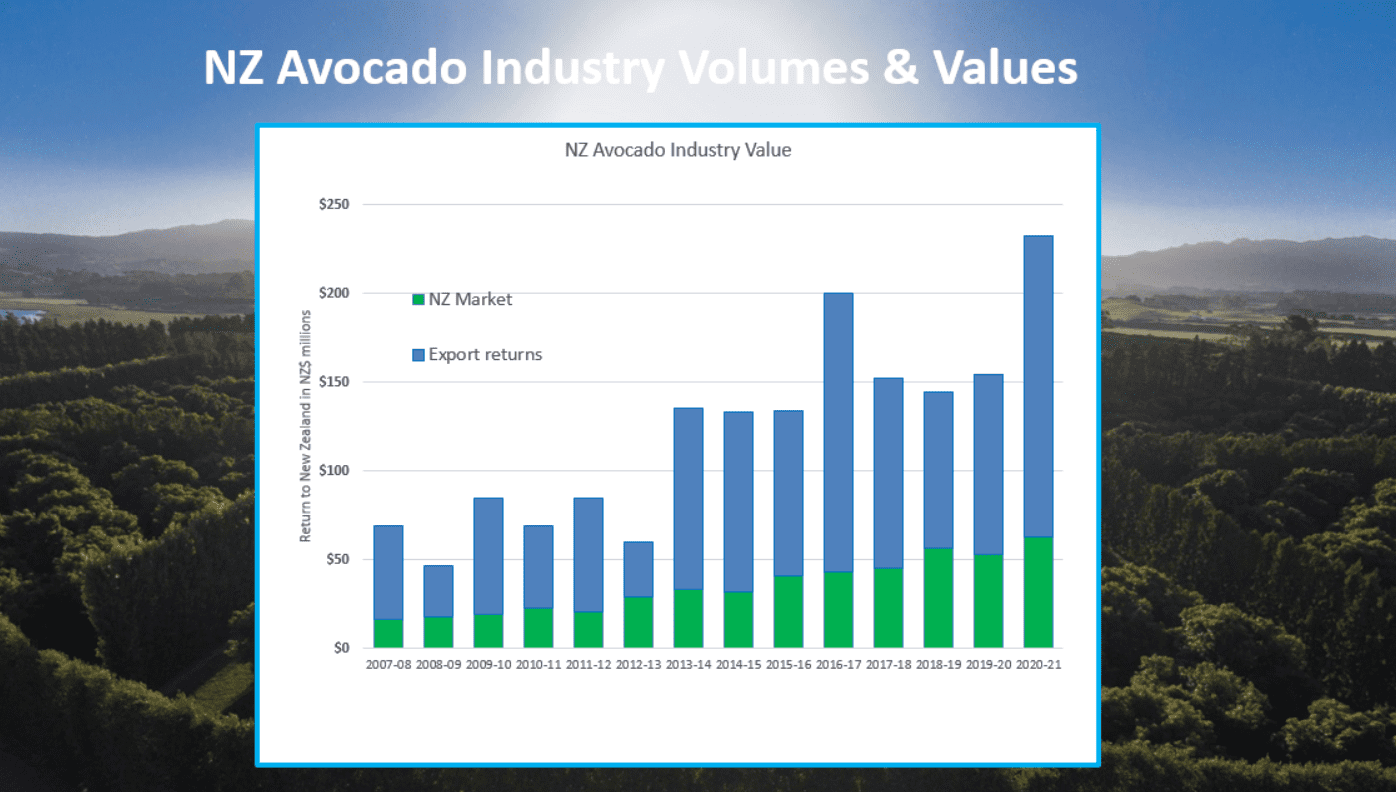 Growing avocados
Avocados grow in the North Island of New Zealand which offer a mild climate, sufficient rain and fertile soils.
The industry has 1,800 growers who collectively manage over 4,000 hectares of mainly the Hass variety of avocados.
A number of packhouses, fruit marketing companies and exporters are involved in the industry to market and sell New Zealand avocados both in New Zealand and overseas.