Optimum Use
How much water do I need?
Achieving the maximum yield with the delivery of the right amount of water at the right time to the plant.
To be able to answer this question requires knowledge of soil, crop and climate interactions on your orchard. You also need to have a good understanding of your irrigation system.
Soil provides support, water, nutrients and aeration; plants access water held in the soil to continue growing between rainfall or irrigation events.
Climate and weather both give and take water from the soil, while your crop uses water in different ways as it grows – mostly for cooling and to transport nutrients.
Growers wanting to achieve the most efficient use of water to their crop should also think about storage and the management of movement of water in soil through irrigation.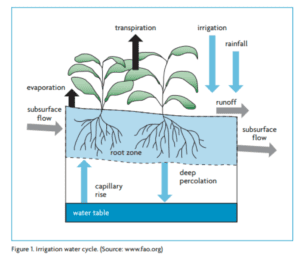 New Zealand has diverse and changeable soil types and to use water efficiently, you need to know your property's soil characteristics.
This is best done using soil water sensing technologies, such as Electro Magnetic Conductance (EM mapping), which are now readily available as is the service industry to support this work. These now allow detailed soil mapping which, combined with soil moisture monitoring information, will go a long way towards good decision making on water use.
Soil Moisture Monitoring
Allows for optimal amount of water for tree health & crop yield while managing nutrient movement through the soil profile to ensure optimal environmental outcomes
Accurate monitoring of soil moisture penetration into the soil depth profile is key to efficient and effective irrigation techniques. Well-timed irrigation can lead to increased yields by preventing plant stress days and keeping nutrients in the fibrous root zone.
Irrigators must choose the right equipment for their soil, land use activities and irrigation system type. This sits alongside locating, installing and calibrating soil moisture monitoring systems correctly to ensure good data to inform water management decisions. Accessing, managing and understanding the measured data is also important to the water scheduling process. If soil moisture monitoring is to be used successfully, each of these aspects has to be carefully worked through.
The decisions to purchase soil moisture monitoring equipment is an important one, too often they are purchased and abandoned – resulting in a wasted investment.
Click here to link to IrrigationNZ to find more detail on the importance of your soils and the tree crop, soil, climate & weather interaction for making good on-orchard decisions.
Avocado tree phenology
Understanding tree phenology is important to understanding your water requirement.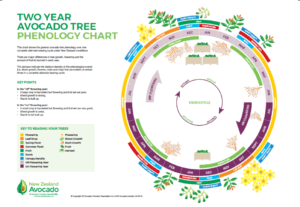 Irrigation is all about maintaining a steady supply of water for the avocado tree to use. The tree uses water predominantly for cooling and to transport nutrients. However some is also used for growth (tissue building). There are critical periods for an avocado crop where dry conditions can affect fruit size and tree nutrient status.  You can learn more on phenology on the NZ Avocado grower website here and in more detail the critical periods for your crop here.
The calculation for actual plant water use looks like this:
Actual plant water use (evapo-transpiration, ET) = Reference crop potential evaporation (PET) multiplied by the crop factor (CF).
Crop rooting depth determines how much of the available water held in the soil a plant can access, while crop factors and stress points vary in the different stages of growth.
Tensiometer
A tensiometer measures the tension or suction that plant roots must exert in order to extract water from the soil. Growers can use this as a direct measure of the amount of water available to their trees.  Tensiometers come in different lengths allowing an understanding of water availability at differing depths.
A critical factor for the successful use of tensiometers in irrigation decision making is representative site selection for placement of the monitoring devices.  Generally there will be multiple sites selected and decisions may reflect
Tree age &/or health
Soil types
Site topography (place within the ability of the system)
Irrigation delivery rates
Tree variety &/or rootstock
Typically sites represent 1-3 ha and are placed to be effective within root and irrigation zone at differing depths. These tend to be placed at feeder root depth and then approximately twice this depth.
Recording readings enables day to day decision making on water use but over time can deliver greater insights into needs of trees over a season and then from one year to the next.
There are a number of great resources available on the installation and use of tensiometers on line, for example this YouTube clip published by Avocado Australia 
NB: Top growers often use both soil moisture monitors and tensiometers, quickly building an understanding of the correlation between the two instrument's readings. This provides further knowledge and supports even better water use decision making.
Climate and weather
Climate refers to historic data and general trends (eg. drier in summer and average rainfall), while weather refers to specific days or events (eg. 25 mm of rain on October 18, 5.3 mm of PET yesterday) and to future (forecast) data over coming days.
The four main climate factors affecting irrigation are:
Evapo-transpiration
Rainfall
Soil Temperature
Wind
Some growers to choose to invest in their site's own climate station and this is most useful.  However, a fully telemetered climate station with robust data loggers and automated data transfer while convenient can be expensive.
Weather information and climate data is available from a number of sources (regional & district council websites, NIWA, Metservice among others) including NZ Avocado Orchard weather station and soil moisture monitoring sites.
Managing your data
The need for more rigorous recording regime around water use is being demanded by national and regional regulations.  There is benefit to the grower in this as the information will add value to your business.  There are a range of companies in New Zealand that offer a service where data from your installed instruments can be fully managed.  Knowing how to interpret and analyse the data is essential. Being unsure of how soil moisture sensor and tensiomenter data can inform decision-making is one of the key reasons why irrigators stop using them.  A list of IrrigationNZ 'Blue tick accredited' data management companies can be found here.
Click here to link to IrrigationNZ to find more detail on the importance of your soils and the tree crop, soil, climate & weather interaction for making good on-orchard decisions.
SPASMO-IR
This is a computer model that calculates crop water demand.  Both Northland and Bay of Plenty Regional Council's hold a licence for this calculator and they use it to estimate your irrigation needs as part of the consenting process.  It measures efficient irrigation requirements and the outcome will represent the maximum level your council can approve a consent for. It is worth noting SPASMO-IR is quite generous in regards to the volume of water it allows.  Both regional councils are happy to run this model for you and you can click on the relevant council link below to see how best to engage with council.
SPASMO-IR takes into account
Crop type ( including evapotranspiration data)
Canopy area
Soil type(s)
And climate data
It is important to note, however that SPASMO-IR only wants to know what you are using now – it doesn't account for future growth or for growers to future proof their business i.e. it will not account for holding extra water for future developments.  If you have further development of your orchard in mind ring your regional council.
Bay of Plenty
Bay of Regional Council
If you, as a grower, wishes to know what your maximum efficient take is BOPRC is happy to run the SPASMO-IR model for you.  Contact consents.queries@boprc.govt.nz
Northland
Northland Regional Council
As with all models assumptions are made and in Northland an applicant may justify their water requirements using other methods. This is assessed on a case by case basis.
Useful links
Relevant information, science & research available through NZ Avocado:
Irrigation basics
https://industry.nzavocado.co.nz/grow/irrigation/
Becoming a grower – what you need to consider
https://industry.nzavocado.co.nz/grow/becoming-an-avocado-grower/
Current projects:
Determine water consumption of avocado orchards in NZ conditions.
Evaluate the effect of different management irrigation strategies on productivity.
Develop irrigation management tools that can be used by growers.
https://industry.nzavocado.co.nz/about-us/current-projects/
Rainfall, regional weather stations:
https://industry.nzavocado.co.nz/grow/rainfall/
https://industry.nzavocado.co.nz/grow/weather/
Website and grower manual:
https://industry.nzavocado.co.nz/download/grower-manual-part-2-chapter-4-soil-moisture-and-irrigation/
NZ Avocado orchard weather station and soil moisture monitoring
Click below for weather station and soil moisture information in your region:
https://industry.nzavocado.co.nz/grow/irrigation-soil-moisture-management/
Site selection, preparation and planting
https://industry.nzavocado.co.nz/grow/site-preparation-and-planting/
https://industry.nzavocado.co.nz/grow/site-selection/
Avoscene magazine articles
Irrigation:
https://industry.nzavocado.co.nz/irrigation/
Frost protection:
https://industry.nzavocado.co.nz/frost-protection-how-much-is-it-worth/
https://industry.nzavocado.co.nz/frost-protection-basics/
Tree & root health
https://industry.nzavocado.co.nz/drainage-sometimes-you-get-out-what-you-take-out/
https://industry.nzavocado.co.nz/controlling-phytophthora-cinnamomi-in-new-zealand/
https://industry.nzavocado.co.nz/phosphonate-and-phytophthora/
Regulatory changes for water
https://industry.nzavocado.co.nz/significant-changes-coming-for-those-that-take-water/
Avoconnect (Includes soil moisture updates through summer months)
https://industry.nzavocado.co.nz/news-events/avoconnect-2/
Research bulletin soft copy