Market Development Strategy
Market development strategy
The New Zealand avocado industry has a market development strategy to support exporters to grow markets at value for increasing volumes of avocados from New Zealand.
A strategic objective for export avocados is to develop markets in Asia, as an increase in Australian grown avocado supply, and supply from other countries into Australia, is forecast to occur over the next five years.
Market development planning is undertaken collaboratively each year by NZ Avocado and exporters, through the exporter promotions working group. The group considers a combined exporter five-year market allocation forecast and prioritises key markets for development for the year ahead. The effectiveness of the New Zealand avocado story is reviewed, and the mix of promotion activities that NZ Avocado and exporters will undertake is agreed, to ensure activity is complimentary and to avoid any duplication of activity.
Market access and compliance with market requirements are a key part of market development, these activities are undertaken by NZ Avocado and the Ministry for Primary Industries.
Market development planning feeds into the NZ Avocado business plan, which is approved each year by eight growers and two exporters on the NZ Avocado Industry Ltd board.
For the past three seasons, the collective exporter and industry implementation of the market development strategy has resulted in 35% year-on-year growth of fruit volumes to Asian markets, from 443,000 trays in 2017 to 849,000 trays in 2019.
Significant shipping and logistics disruption is being being experienced in all exports to New Zealand's priority markets in Asia in 2020 due to wide-ranging impacts of Covid-19. This has affected the volume and percentage of New Zealand avocados sent to markets in Asia and for the 2020-21 season, total export volumes to Asia are forecast to reduce to around 550,000 trays.
The chart below shows distribution of New Zealand avocado exports sold to Asia, Australia wholesale and Australia retail.
Exporters continue to support the strategy to develop Asia for the long term, with New Zealand's largest avocado export market, Australia, forecast to come under increasing supply pressure over the next five years.
The combined exporter market allocation forecast to 2025 indicates a significant shift in regional focus. For 2020 this will be 85% to Australia and 15% to Asia, but by 2025 exporters forecast 50% of New Zealand avocado export volume will be sent to Asia and 50% to Australia.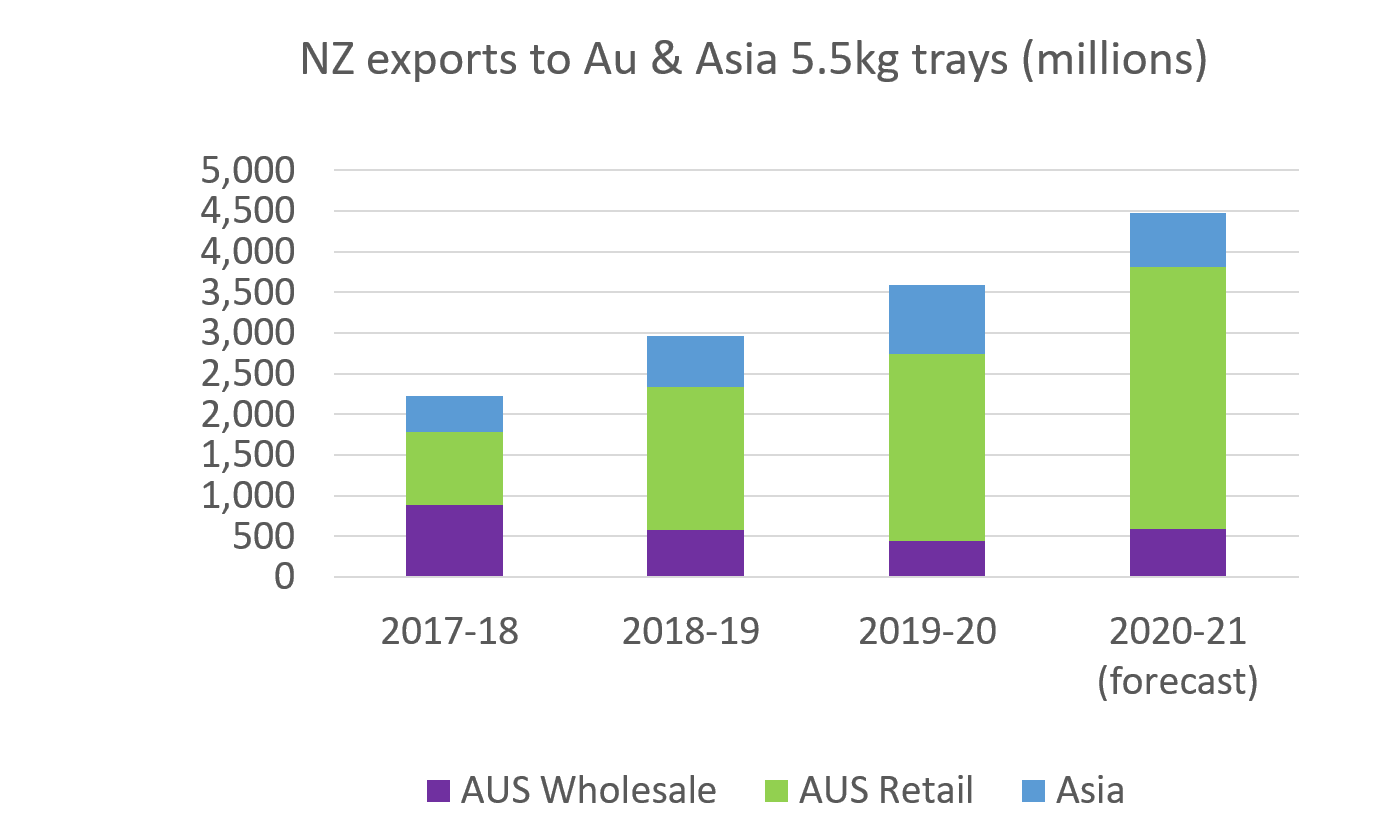 Asian Markets
NZ Avocado promotions overview
Premium Avocados from New Zealand
The Premium Avocados from New Zealand category story was developed by NZ Avocado in collaboration with New Zealand exporters in 2014. The story helps provide consistency to promotional messaging and imagery across NZ Avocado and exporter brands to leverage New Zealand's unique points of difference.
Every season NZ Avocado executes promotion campaigns across target markets in Asia to connect this category story with target avocado consumers. The category story focuses on New Zealand provenance, unique avocado nutrients, versatility of avocados and how these benefits can inspire healthy life.
UPDATE: NZ Avocado has secured Primary Growth Partnership funding to evolve the differentiated story for New Zealand avocados in 2021, to make it relevant and effective in our key markets today and in future. A workshop was attended by 8 avocado exporters in November 2020 to begin development of the next phase of the differentiated story, with a focus on markets in Asia where volumes from South American supply countries continue to increase.
Multiple stories leveraging the unique qualities of avocados grown in New Zealand will be developed and tested with consumers in key markets, to identify a story that is differentiated, defendable and that compels consumers to purchase. The differentiated story will be developed with exporter and grower input and available for use in the 2021 export season.
Research
NZ Avocado undertakes consumer and market research and shares it with exporters, to help inform New Zealand stakeholders as to who is buying avocados in each market, where they are buying them and what the key drivers for their avocado purchases are.
Online presence for avocados from New Zealand
Local language websites for avocados from New Zealand are live in seven priority markets across the Asia pacific region. To view the websites for each country, click here www.nzavocado.com 
Social media
New Zealand avocado social media campaigns reached 10 million consumers in our markets in 2019 and we are hoping to equal that consumer reach in the 2020-21 season.
Social media campaigns across Asia connect the story of avocados from New Zealand with consumers in the right place, at the right time. Messaging focuses on New Zealand's unique provenance story and growing environment, the nutrient properties and unique health benefits of New Zealand avocados, amazing avocado recipes and education information on how to choose, store, and prepare avocados from New Zealand.  Check out our NZ Avocado Facebook, Instagram and WeChat accounts by clicking on each individual market tab in the section below.
Influencer engagement
We engage key opinion leaders including celebrity chefs, nutritionists, sportspeople and media celebrities to connect New Zealand avocado recipes, nutrition information and handy tips to their loyal followers in our target markets
Events
NZ Avocado delivers season launch events in priority markets to connect with media and boost visibility of the start of the New Zealand avocado season in our priority markets. These events are held in embassies, restaurants, fitness clubs and supermarkets across Asia. Invited guests include ambassadors, food, nutrition and lifestyle influencers, mainstream media, importers, distributors and retailers.
Competitions
We use consumer competitions to reward our community of New Zealand avocado lovers around the world with avocado themed giveaways, and even trips to New Zealand avocado orchards. Entrants are required to contribute avocado recipes, undertake fitness challenges and answer questions about avocado nutrition to enter these competitions, and we learn a lot about consumer preferences, usage and knowledge through NZ Avocado competitions.
Thailand
NZ Trays exported: 281,263
Total avocado imports 2018: 281,463
Market competitors: Australia
Record volumes of New Zealand avocados were exported to Thailand in 2018-192019-20.
138,799Over 27550,461000 trays of New Zealand avocado were exported representing 36% growth on the season priormaking Thailand the largest Asian market.
Thailand is the second largest economy after Indonesia in the 10-nation Association of Southeast Asian Nations (ASEAN). With a population of nearly 70m, its urban population
(45.7 % of total), principally in the Bangkok area, is growing.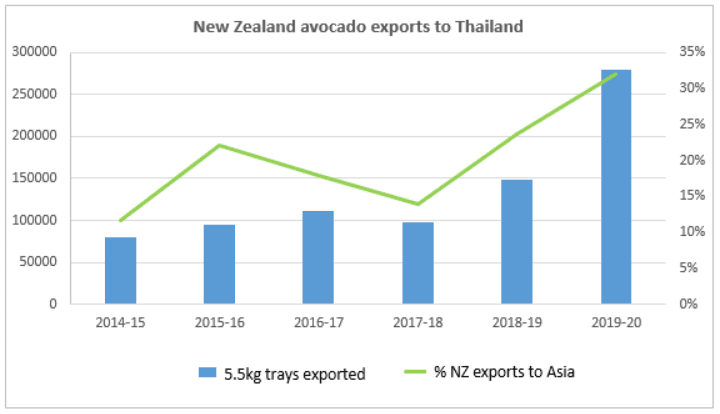 As relative incomes in Thailand increase, opportunities exist with higher priced commodities and value-added food and beverage products. The retail space in Thailand is changing quickly and showing very good interest in the avocado category.
New Zealand is the only country that has legal access for avocados to Thailand, after Australia lost phytosanitary access in 2012. However, imported avocados from other countries of origin are still being seen in Thailand. Australia has re-applied for market access to Thailand. Exporters are leveraging opportunities to market premium avocados from New Zealand and see potential to significantly grow this market.
NZ Avocado contestable funding has been utilised by exporters for projects in Thailand for the past three seasons.
View NZTE COVID-19 Thailand market overview here
Promotional activity:
Season launch event – Jetts fitness
Social media campaign reach 2.8 million
Influencer recipes
Avocado Adventure competition

South Korea
NZ Trays exported: 164,517
Total avocado imports 2018: 1,499,000
Market competitors: Mexico, U.S.A & Peru
South Korea has been rated a priority market by AVEC and NZ Avocado upholds its requirements for only Class 1 fruit to be exported to this market. A large, affluent population demanding safe, high quality food creates an opportunity for New Zealand avocados.
207,596184,000166,749 trays of New Zealand avocados were exported to Korea in 2019-208-19, making it the second highest volume and value market for avocado from New Zealand in Asia.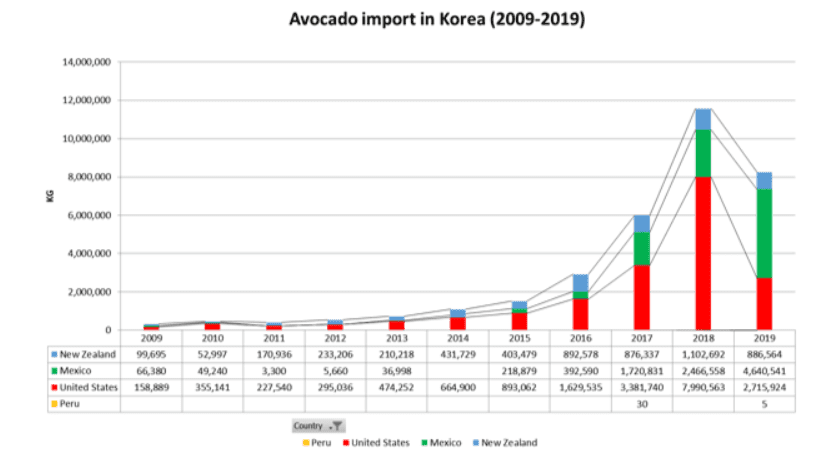 Significant growth of New Zealand avocado exports to South Korea has occurred since 2015 when 68,000 trays were exported. Exporters anticipate further growth in avocado volumes to South Korea in the coming season.
Three countries currently have access to export avocados to South Korea: New Zealand, USA and Mexico. Peru have recently applied for access to export avocados to Korea with a goal to begin exporting as early asin 2019.
Exporters have consistently invested in supply chain development and in-market promotion of avocados to improve the adoption of cool chain best practice and deliver high quality, ripened New Zealand avocados to consumers. As a result, consumer demand for avocados has risen dramatically in recent seasons and South Korea continues to deliver relatively high OGR values despite increases in the volume of avocados exported.
The tariff for New Zealand avocados to Korea reduced to 152% on 1 January 2019 2020 and is scheduled to be eliminated by 2024.
NZ Avocado contestable funding has been utilised by exporters for projects in South Korea for the past five seasons.
View NZTE COVID-19 overview for South Korea here
Promotional activity:
Social media campaign reach 1.7 million
Influence youtube activity
Season launch media event
Avocado adventure competition

China
NZ exports 2019: 48,240 trays (5.5kg)
NZ Exports 2020 YTD: 18,000 trays (5.5kg)
Total avocado imports 2018: 7,974,371 trays (5.5kg)
Market competitors 2020: Mexico, Chile, Peru. Access to China was approved in 2020 for avocado from Colombia, California and the Philippines.
Access for avocados from New Zealand into China was approved in January 2018 following a successful audit of industry systems and trial airfreight consignment of New Zealand avocados into China.
An Official Assurance Programme (OAP) has been agreed with MPI for avocados from New Zealand into China. This is the first OAP for an export market for New Zealand avocados. NZ Avocado has worked with growers, packers and exporters to support the industry in meeting the requirements of the OAP.
China's avocado imports grew rapidly between 2015 and 2018, with a drop in total volumes imported in 2019. Mexico began exporting avocados to China over 10 years ago. Chile entered the market in 2014, followed by Peru a year later. For the past two years Peru has been the largest avocado supplier by volume to the China market.
The first avocado New Zealand avocado exports to China were sent in 2018, with exports growing to 48,000 trays in 2019.  COVID-19 caused disruption to international shipping, resulting in a significant decrease in avocado volumes exported from New Zealand to China in 2020. However, New Zealand exporters see China as a market of future importance, and export volumes to China from NZ are forecast to increase rapidly between now and 2025.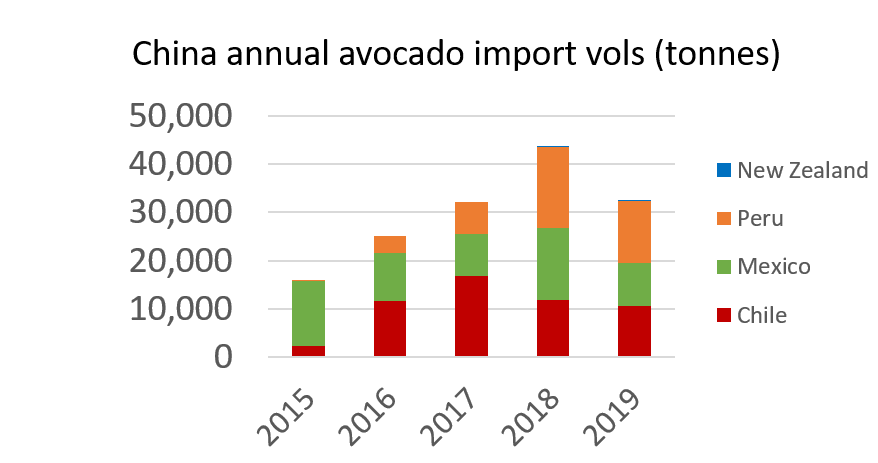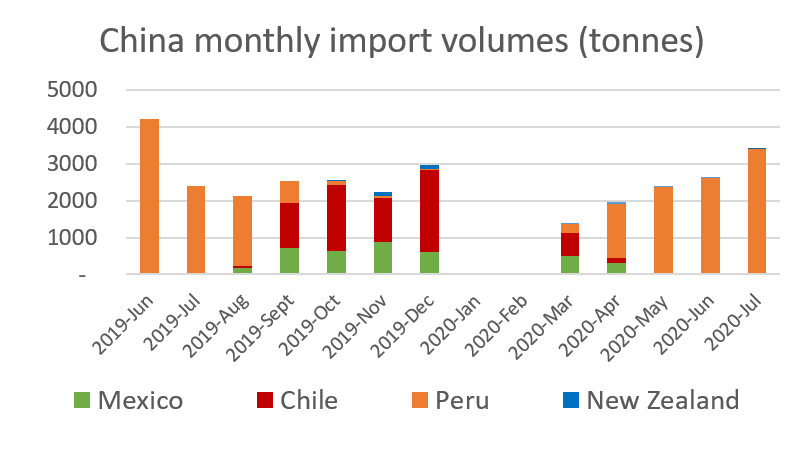 NZ Avocado uses social media, digital marketing and live events to connect the Premium Avocados from New Zealand story with consumers in China.
NZ Avocado promotion activity in China has included a partnership with  international fitness chain Les Mills for a consumer event focused on fitness, wellness and the nutrient properties of New Zealand avocados. 3,000 consumers in China participated in the event. 35 influencers in China were engaged to connect posts and articles about avocados from New Zealand with foodies, fitness enthusiasts and mothers of young children. New Zealand avocado advertising on social media platform Douyin (Tik Tok) reaches 1 million consumers in China.

Singapore
NZ Trays exported: 100,518
Market competitors: Mexico& Chile
Singapore has been rated a priority market by AVEC for the export of avocados from New Zealand. With a young population of 5.4m and no domestic production, avocado consumption has been steadily increasing in the last five years.
Singapore imports avocados from Australia, New Zealand, South Africa, Israel, Mexico, Peru and USA and a number of other countries in smaller quantities.
Exports of New Zealand avocados to Singapore grew rapidly from 81,000 trays in 2011 to peak at 178,000 trays in 2015. Export volumes to Singapore have dropped back in the last two seasons with 60,276 trays exported in 2018-19.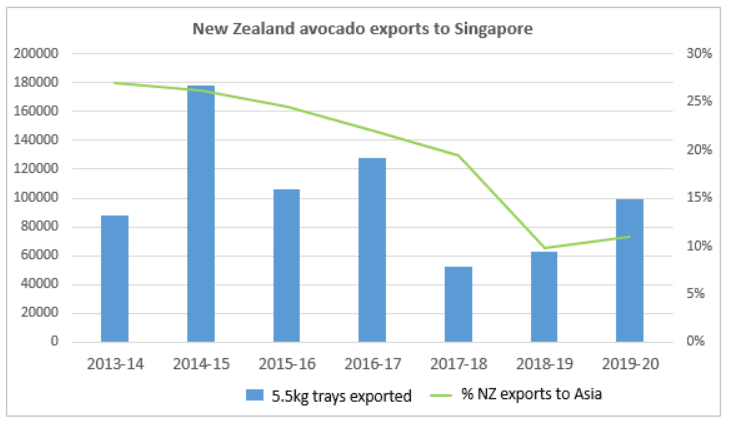 The population is young and interested in new and healthy foods. NZ Avocado consumer research indicates that Singapore customers are somewhat aware of avocados and how they can be used. This may be driven by the growing expatriate population of Singapore, resulting in a shift towards western cuisine. Japanese restaurants have also had an impact. There is still considerable room for improvement in knowledge regarding alternative uses of avocados.
Importers are very interested in receiving marketing support, which will assist in promoting awareness of avocados. Smaller premium fruit is preferred as it fits well with the price-sensitive market. Improving in-market quality outcomes though investment in supply chain and handler education has been a focus of New Zealand exporters in Singapore since 2017.
The use of the New Zealand category story to promote a consistent message about avocados from New Zealand in Singapore is well utilised by exporters and well received by importers. NZ Avocado contestable funding has been utilised by exporters for projects in Singapore for the past four seasons.
View NZTE COVID-19 Singapore market overview here
Promotional activity:
Social media campaign reach 1.1 million
Avocado Adventure Competition

Japan
NZ Trays exported: 97,101
Total avocado imports 2018: 14,052,000
Market competitors: Mexico, Chil, Coloumbia, U.S.A, Australia & Peru
Consumption of avocados in Japan is increasing, and with an affluent population of 127m, the ability to supply premium avocados grown in a safe environment provides an opportunity for New Zealand.
However, competitor supply pressure and the emergence of other high-returning markets for New Zealand avocados in Asia led to a decline in the percentage of New Zealand avocados exported to Japan in each of the last two seasons.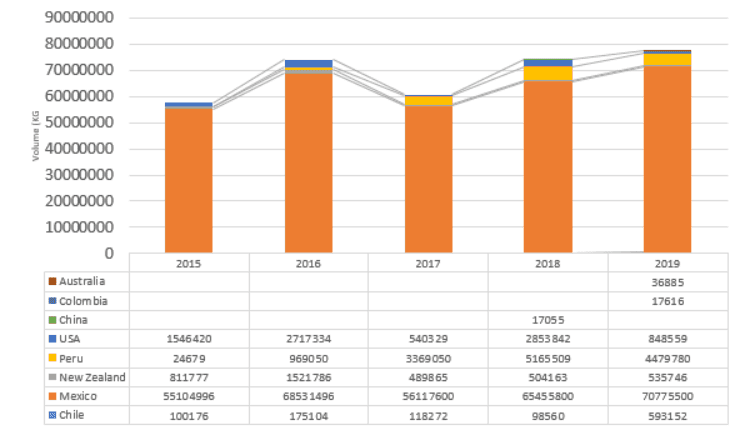 Considerable work has been undertaken over a number of years to develop this market, to build relationships, to provide education on best practice supply chain and to understand the optimal market channels.  As a large market for avocados, Japan remains a market of strategic importance for exporters due to its ability to absorb significant volumes of New Zealand avocados at a stable price.
A category story has been developed to support the use of consistent key messaging about avocados from New Zealand for the Japanese market.  NZ Avocado has developed generic collateral that can be co-branded and used in-market to encourage this consistency of message.
View NZTE COVID-19 Japanese market overview here
Promotional activity:
Social media campaign reach 528,000
Avocado adventure competition

Taiwan
NZ Trays exported: 97,956
Market competitors: U.S.A & Mexico
Over 99,434 trays of New Zealand avocados were exported to Taiwan in 2019-20. Exports of New Zealand avocados to Taiwan have grown rapidly since 2015.
Taiwan has one of the world's highest per capita consumption rates of fresh fruit. In 2017, Taiwan imported US$742 million worth of fresh fruit, a 2.81% increase from the previous year. New Zealand is the second largest supplier of all fresh fruit to Taiwan, behind USA, and because of this importers and consumers in Taiwan understand New Zealand's food safety, quality and provenance proposition.
The majority of New Zealand avocados sold in Taiwan are through direct retail programs.
Small volume markets
Malaysia
Malaysia offers significant opportunity for avocados from New Zealand with an increasing middle class population seeking high quality, safe food.  The market offers good infrastructure around the cool chain and retail distribution – a necessary asset of a market for New Zealand avocados.  Market development should follow a disciplined approach including collaboratively or independently developing the markets, taking steps to undertake market and consumer research, defining effective market channels and ensuring adoption along the cool chain of best practice to ensure the consumer is delivered high quality New Zealand avocados.  Only Class I avocados shall be exported to Malaysia.  The major imports of avocados are currently from Australia.
India
NZ Trays exported: 31, 238
Total avocado imports 2018: 67,318
Market competitors: Chile & Peru
There is limited knowledge of avocados among consumers and handlers in India, the domestic production is very small, and only limited volumes are currently imported, mostly via Holland, from Peru. This market offers a good value proposition but volumes are currently low.
Phytosanitary access was granted to avocados from New Zealand in February 2013. Following access being granted, NZ Avocado joined two exporters on a market visit to determine the potential for avocados from New Zealand in India.
New Zealand is essentially one of the pioneers for avocados in this market. There is currently one New Zealand exporter operating here and they are implementing a five-year strategy to develop volumes (currently going into year four).
The challenge of distance (four weeks to market by ship) and lack of infrastructure will require very disciplined market development and the development of excellent in-market relationships. Sea freight trial work has been undertaken and will continue to be refined.
There is currently an import duty in place of 30%.
Opportunities for future development of this market are seen as good, India is an emerging superpower in terms of the gathering momentum in its economy and has a population growth forecast to exceed China. The market for avocados is set to increase over time but may be slower to realise than China because of the low volumes being put into this market from suppliers globally.
NZ Avocado contestable funding was utilised by exporters for projects in India in the 2018-19 season.
Other small volume markets: Hong Kong and other Asia Pacific
Australia and New Zealand
Australia
NZ Trays exported: 2,298,674
Total avocado consumption 2019 (Jan-Dec) 15,554,000
Market competitors: Australia
Australia is a developed market and remains the priority destination for New Zealand avocados in terms of growth potential, return and proximity.
This market represents approximately 80% of exports of New Zealand avocados with a return that has historically exceeded that of any other market with considerable volume.
This high value market has been developed by significant and focussed investment in marketing high quality avocados through a disciplined supply chain ensuring the delivery of high quality product to customers and consumers.
Strong relationships with key retailers enables New Zealand to command good market share in the Australian market during the peak of the New Zealand export window, thereby enhancing the opportunity for wealth creation for New Zealand growers.  This investment in the supply chain and in-market relationships strongly enhances the returns to New Zealand growers.
Market conditions in Australia are complex due to Australian producers adopting a position of strong market protection to ensure market share for increasing internal production.  Significant new plantings in Western Australia will result in greater volumes of Australian avocados competing with New Zealand avocados during the New Zealand export season. In addition to increasing Australian domestic production, it is anticipated that avocados from Chile will obtain access to export avocados to Australia by 2020.   In Australia that story is about great avocados, grown with care, from our shared part of the world.
After 2 seasons of promotion have a community of 10,000 followers of NZ Avocado social media in Australia
New Zealand's reputation for fruit quality is absolutely the number 1 priority in this market and we have prioritised qual projects over promotion, but important that avocados from NZ still have a voice in this market and connect positive messages with consumers.
Promotional activity:
Social media campaign reach – 2.1million
30 Australian food, wellness and baby mother influencers engaged to promote avocados from NZ to 735,000 Australians

New Zealand
Trays: 2.9m in 2019-20
The New Zealand market consumes between 30% and 50% of the total crop, being Class 2 avocados during the export season but all avocados outside the export season. This market has been identified as a priority market for development. The ability to meet the strategy to maximise value to growers in the long term demands that the New Zealand market is optimised and continued value growth is generated out of the market.  Proactive market development activity implemented since 2012 has raised avocado visibility and consumption considerably and generated record market value outcomes.  The New Zealand market promotions strategy will be further developed to increase consumer knowledge of the health and versatility attributes of avocados and drive sales.  A collaborative approach between NZ Avocado and New Zealand marketers, supply of only high quality fruit, and the disciplined application of best practice will better ensure the consumer demand for consistent good eating quality is met and will enable greater value to be captured in the New Zealand market and increase demand for avocados in the long term.
Promotion activity:
Social media campaign reach: 895,690
TV and online advertising
Avocardio season launch event
Instore sampling -21,000 shoppers engaged
Outdoor advertising
Retail training toolkit